Singapore artist Martin Loh, well-known in local painting circles for his native Straits Chinese (Peranakan) works, will mount a solo private exhibition of male erotic art next January.



From the top: Forbidden Kiss - 1999 (Pastel on paper), The Nibble - 2001 (Mixed media on napkin) and Size Matters - 2000 (Mixed media on paper).
Men in the Raw
is believed to be the first show exclusively featuring gay erotic art to be organised in puritanical Singapore.
The artist who has painted and exhibited images of Peranakan
bibiks
(women) and children for more than a decade feels that in recent times there has been an over-emphasis on feminine beauty in the media, in advertising, in society and in art.
Through his new exhibition, Martin seeks to redress this imbalance, bringing back the
yang
to the
yin
in allowing audiences to appreciate the sensual beauty of the naked male in glorious Fauvist colours. As a longtime connoisseur of male beauty and artist, Martin feels that the art is an extension of the artist as a gay person and his hedonistic lifestyle.
Since 1999, the artist had displayed his nude male series discreetly in the higher levels of the John Erdos Gallery as part of Martin's largely Peranakan solo exhibition
Heightened Senses
(2000).
Men in the Raw
(2003) presents the best of his output for this series in a diversity of media from full-figure acrylic portraits on canvas, to riotously colourful male pairings in mixed media on paper, to sensual traces of male outlines captured with felt pen or brush.
---
While admitting that the show has a rather raunchy slant, he says he feels neither restrained by political correctness, nor what is acceptable or unacceptable by the general public. In his art, Martin seeks not to hide the love which is forbidden by society, but to depict a scenario of freedom.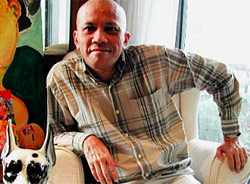 Singapore artist Martin Loh
The paintings features impossibly handsome and well-endowed men - he encounters both locally and overseas - spread-eagled sometimes erect bathed in raucous, but cleverly juxtaposed colours, proud in their bulging masculinity, making them icons of gay erotica, suitable for private pleasurable worship.
Fridae.com will concurrently be hosting an online shop featuring the paintings from
Men in the Raw
website which will continue after the exhibition has ended. One special painting donated to Action for Aids will also be on auctioned on Fridae.com which would be on display during the exhibition.
An exclusive preview opening for Fridae members and invited guests will be held at Utterly Art Exhibition Space on Saturday 4th January from 7.30pm onwards. The show will be held privately at Utterly Art Exhibition Space, from Saturday 4th Jan to Tuesday 7th Jan 2003. Works may also be physically inspected at Utterly Art before and after the exhibition - please phone for an appointment.
Utterly Art Exhibition Space
208 South Bridge Road #02-01
Opening hours
Sat, Mon, Tues: 11.30am-8pm
Sun: 12noon-5.30pm or phone for a private appointment.
Tel: +65 62262605
Email:
utterlyart@pacific.net.sg