"There has been no precedence for us;
we are creating a historical precedence as we go along."

- Jason Wee, "Identity and Values" in PLU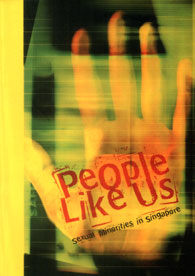 If there is a book that every self-respecting homosexual in Singapore should read, it has got to be
People Like Us: Sexual Minorities in Singapore
. Published by Select Books,
PLU
is groundbreaking in that it grapples with the taboo topic of homosexuality in the Singaporean context.
A book in three parts,
PLU
can be considered a Primer to Homosexuality 101 for gays and lesbians living in Singapore. Part I of the book lays down the groundwork by focusing on the issue of gay civil rights and responsibilities with detailed descriptions of the prevalent political views and the existing penal code in Singapore.
Part II takes the issue one step further by dissecting gay identity and values with thought-provoking contributions from Desmond Sim, Jason Wee and Au Wai Ping. It is also worthwhile to note that the first two Parts are essentially a compilation of topics presented during two closed-door forums held in Singapore on gays and gay-related issues in early 1999.
The book concludes with the highly enjoyable Part III which gives voice to various facets of homosexuality in Singapore ranging from societal misconception (Au Wai Ping) to queer stage (William Peterson) to potato queens (NUS sociology lecturer Dr Laurence Wai-teng Leong).
Amongst all the contributions, Mr Peterson's "The Queer Stage in Singapore" deserves special mention for its comprehensive coverage of gay-themed plays and its exploration of censorship in Singaporean theatre. Likewise, Dr Leong's "Of Rice and Potatoes: The Dynamics of Interracial Gay Relationships" provides much hilarity and brain fodder with its exploration of food metaphors and its dissection of inter-racial gay relationships.
Featuring contributions from academics, professionals and gay Singaporeans,
PLU
lends credibility to "serious" issues confronting the gay community by presenting well-balanced debates and discussions minus the usual histrionics expected from an increasingly visible homosexual community.
The only drawback is that the book reads like an uneven narrative exercise with contributions ranging from academic treatises to a-page-in-the-diary personal anecdotes to bible thumping contributions on homosexuality and Christianity etc. To make matters worse, the insertion of lengthy discussion transcripts and the use of dry and discursive academic prose adopted by some contributors make for extremely tedious reading.
Having said that,
PLU
still deserves a read not only for its novel value but also for finally offering a panel of provoking and penetrating insights into the question of what it means to be a homosexual in Singapore.