An estimated 80-100 graduates and faculty walked out of the graduation ceremony at St. Joseph's University in Philadelphia amid competing boos and applause before Santorum was introduced make the keynote address at the ceremony. The Senator recently infuriated gay groups and others with derogatory remarks about homosexual behaviour.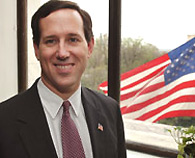 Sen. Rick Santorum
According to the Associated Press, some students had urged the university to rescind Santorum's invitation after he likened gay behaviour to polygamy, bigamy, incest and adultery in a widely publicised interview on April 7 but was instead offered an opportunity to leave. He later said he intended the remarks as a legal analysis and didn't intend to comment on individual lifestyles.
During the address, although he didn't mention the walkout or the controversy directly, he said: "We are all called to love one another, even people we disagree with, even people who hate us for what we believe." Some 50 of the 1,000 students gave Santorum a standing ovation.
He doesn't respect diversity," said graduate Christy Miller who participated in the protest. She told the
Philadelphia Inquirer
that Santorum's comments about gays and his voting record do not reflect the social justice values that the Jesuit university teaches.
Dozens of other students and faculty, attached rainbow-colored tassels to their mortarboards - donated by Giovanni's Room, a local gay and lesbian bookstore.
Frank Bernt, a health services professor at the university who wore one of the rainbow tassels, told the Inquirer it was ironic that Santorum made his comments as a way to support family values. He said that to call homosexuality antithetical to family values was an insult to the families at graduation showing support for their gay sons and daughters.