A growing number of married family men in Bangkok are buying sex from male sex workers, challenging the conventional thinking that married men, including those with children, were not interested in sex with male prostitutes, according to an official study.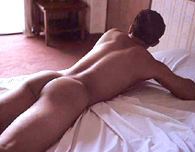 The official study titled:
Male Prostitutes in Bangkok: A Channel for HIV/Aids
was released on Wednesday by the Thai Association for Safe Sex and Better Quality of Life in conjunction with the Health Ministry.
The United Nations Population Fund (UNFPA) sponsored study involved interviews with 100 male sex workers employed in bars, cocktail lounges, karaoke lounges, saunas, massage clubs and dancing cocktail lounges from August 2001 to November 2002.
The 2-year study revealed that almost half the male customers were businessmen, followed by government officials and people in the sex entertainment industry. It also revealed that more women were buying sex - nearly half the women buying sex were businesswomen, followed by women in the sex industry while a minority were government officials and politicians.
Despite working in the sex industry, many sex workers bought sex themselves "because many feel stressed at work and want to release their stress among others in a similar manner."
The study found that 48 percent of the male sex workers interviewed had anal sex with their male clients, 28 percent masturbated and 20 percent had oral sex. They said around 74 percent of their male customers were aged 30-49, while 13 percent were over 50, reports
The Nation
newspaper.
Meanwhile, 78 percent of the male sex workers had intercourse with their female clients and 21 per cent oral sex. Some 65 percent of female clients were 30-49, 34 percent younger than 30 and just 1 percent over 50.
The study also found that 45 percent of the clients were Thai, 32 percent from elsewhere in Asia and the remainder European or Australian.
In terms of monthly incomes, 70 percent earned between Bt10,000 (US$240) and Bt49,000, 23 percent earned less than Bt10,000 and 7 percent Bt60,000 to Bt99,000.
While many of the sex workers interviewed admitted to not using condoms, most dismissed fears that their work made them a high-risk group for contracting HIV/Aids.