Wearing a red ribbon is the international symbol of remembrance and solidarity for HIV/AIDS. Wearing red biker jerseys, 20 Riding for Life 2003 cyclists and support crew will form a human red ribbon as they wheel across the Causeway and into Singapore on Sunday 8 June.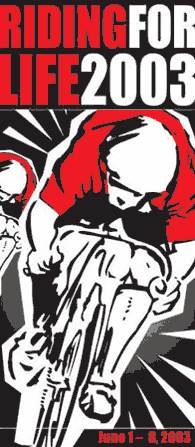 This human red ribbon of volunteers spent the last 8 days cycling over 950km across Malaysia. They raised funds for Action for AIDS- Singapore and working with Malaysian AIDS Foundation cyclists, they spread AIDS awareness and education from Kuala Lumpur across to Kuantan and down to Johor Bahru.
Along the way at each stopover the cyclists from both countries joined hands and voices at HIV/AIDS awareness events for local AIDS charities. Last Tuesday, wearing their red jerseys, the Riding for Life 2003 cyclists handed out brochures and answered questions at a shopping center in Seremban.
The collaboration of the two NGOs, Action for AIDS Singapore and the Malaysian AIDS Council, shows that HIV/AIDS recognizes no borders. In the end, people-to-people sharing can make the difference.
The ride began in Kuala Lumpur with the flag-off by Malaysia's Deputy Prime Minister, Dato' Seri Abdullah Ahmad Badawi, and included stops in Temerloh, Kuantan, Muadzam Shah, Seremban, Melaka and Batu Pahat. The Malaysian segment of the ride ends on Saturday 7 June at 8pm with a grand dinner at the Mutiara Hotel, Johor Bahru.
Both Singapore and Malaysia riders had to raise funds to participate on the ride. The finds raised will benefit each of their own local AIDS organizations.
Welcome Rally For Riding For Life 2003
Date & Time: Sunday 8 June at 3:00pm
Venue: Singapore Street Festival, National Youth Park (Orchard Boulevard & Grange Road)
Guest Of Honour: Dr. Mohd Maliki bin Osman, MP for Sembawang GRC
This year, Fridae.com is the official portal sponsor for RfL 2003.
Source: Action for AIDS (Singapore) press release
Riding for Life 2003 is jointly organised by Singapore's Action for AIDS (AfA) and Malaysian AIDS Council. Over 70 riders and support crew are currently on the road to raise funds and awareness for HIV/AIDS prevention and care. Show your support by donating generously, please click here for details.