Toy Factory, who is known to many for its gay-themed productions including Shopping and Fucking and Beautiful Thing, will stage Bent, an award-winning and groundbreaking play by Martin Sherman about the Nazi persecution of homosexuals, coming out and the struggle for gay pride.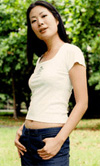 Beatrice Chia, Associate Artistic Director, Toy Factory
Beatrice Chia who won a DBS Life! Theatre Awards in 2001 for Best Director for
Shopping and Fucking
will direct an all-male cast - Mark Richmond, Chua Enlai, Michael Corbidge, Gani Abdul Karim, Brandon Fernandez, Kevin Murphy, Bonni Sta Maria, Ian Tan and Lim Yu-Beng, also as Fight-Choreographer.
First produced in 1978,
Bent
is a gay love story set in Nazi Germany, at a time when homosexuals were sent to concentration camps. This emotional drama chronicles the struggles of two gay concentration camp victims experiencing love in the face of persecution and terror, using their relationship as an emotional crutch in their efforts to rebuff the horror of the Holocaust.
When the play, starring Richard Gere, first premiered on Broadway in 1979, it was not common knowledge that up to half a million homosexuals were also victims of the Holocaust. They were forced to wear pink triangles and publicly degraded in the concentration camps.
Bent
has since been produced in over 40 countries and translated into at least 21 different languages, revived by the Royal National Theatre in 1990 and made into a film by Sean Mathias in 1997.
Early bird tickets are on sale now at $21(incl. $1 charge) from Sistic. Early Bird Bookings from 1 - 30 June. Tickets available at all SISTIC outlets from 6th of June 2003.
Bent
Date: 25 July - 17 August 2003
Time: 8pm
Duration: 2 hours with intermission.
Ticket Price: $24, Free Seating
Venue: Toy Factory at The Attic, 21 Tanjong Pagar Road Level 4 Singapore 088 444
Book online at www.sistic.com or SISTIC Hotline: 6348 5555