"But I can see you-
Your brown skin shinin' in the sun
You got your hair combed back and your sunglasses on, baby
And I can tell you my love for you will still be strong
After the boys of summer have gone."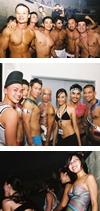 - Boys of Summer by Don Henley
Question
: At which party does turning up in an ensemble of tight-tee and butt-enhancing jeans makes one feel positively overdressed?
Answer
: At the "Boys Of Summer" party organized by Fridae last Saturday on 7 June 2003.
Held at Tunnel located next to The Big Splash at the East Coast Park, the "Boys of Summer" party with its casual dress code saw many revelers turning up in the skimpiest of tank tops and surfer shorts topped off with the requisite golden tan.
A brand new club, Tunnel with its seaside location was a welcome weekend alternative to the usual crushed-to-the-door gay pubs in Singapore. Comprising an outdoor area with a bar located in the middle of a wading pool where patrons can sip their favourite poisons while sitting knee deep in water and a chill-out zone, Tunnel also comes with an indoor club shaped like the inner ear of a conch.
With pathways spiraling upwards and recessed areas for party-goers to rest their feet, the main feature of Tunnel must surely be the Gladiator-like pit at the center of the club which functions as the dance-floor and the stage for the bare bodies on display for the "Boys of Summer Trunk Show" put up by local fashion house RE-.
Featuring the sounds of spinmeisters Ba-Da-Bing and Ka-Ching, the mood at the "Boys of Summer" party was relaxed yet infectious. Interesting venue and great music aside, the main draw of the night must surely be the energetic turn-out which boasts a sky-high GQ (or "Gorgeous Quotient") with many a young, fresh, tanned and buff homo-body on display.
In fact, with Singapore being taken off the WHO list of SARS-affected countries, it was evident that the gay communities in Singapore and from the region were all out to party. And what a party it was. As a member of my posse remarked, the "Boys of Summer" party is indeed a fitting appetizer for the monster party of the year: "Nation 03" to be held at Sentosa's Musical Fountains this August 8th.