Described by many as the "Mardi Gras of Asia," thousands of locals and visitors are expected to party on the resort island of Sentosa, where the party is being held for the consecutive third year.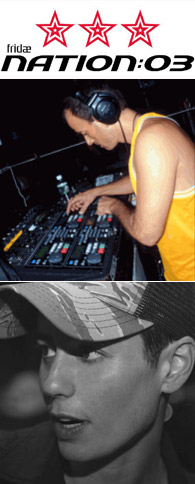 DJ Rick Mitchell (middle pic), a hot favourite on the US dance circuit; and lesbian DJ-producer Mandy Rollins (bottom pic).
In addition to the main event, a welcome party will be held on August 7 at Why Not bar and a poolside recovery party at Big Splash (a water theme park) and Tunnel club, on August 9 from 3pm to 3am.
Following the success of the womyn-only zone in 2001, the Nation party and the poolside recovery will also feature womyn-only chill out areas for women for their comfort and privacy.
DJ Rick Mitchell, a hot favourite on the US dance circuit, will play in Singapore for the first time ever at Nation from midnight to 3am on Aug 9. Until December 1996, Rick whose DJing career started over than two decades to a small radio station in Columbia, Missouri, was best known as an Emmy award winning television journalist. Rick's noteworthy parties and events include the Miami White Party, Hotlanta River Expo, Washington DC Cherry, Detroit Gear Party, Chicago Hearts Party, Black and Blue - Montreal, Sydney Mardi Gras, Gay Disney, Palladium - NewYork, LAB - Rio de Janeiro, and Mardi Gras and Southern Decadence in New Orleans.
With a Mardi Gras 2002 (Party Anthems Volume 8) CD, six Sydney Mardi Gras and three Sleaze Ball parties under her belt in Sydney alone, DJ Mandy Rollins, who is no doubt one of Australia's top DJs will take to the decks from 3am to 6am. The lesbian DJ-producer who is famed for her unforgettable deephouse, tribal and break sets started way back in 1996 when she debut at the Women's Bar at Sleaze Ball (a Sydney Gay & Lesbian Mardi Gras event) after daringly submitted an entry to play.
DJs Ba-Da-Bing & Ka-Ching (Singapore), David S. (Taiwan) and Steel (USA) will play mostly, progressive, vocal and anthem house tunes while you splash away at the 12-hour poolside recovery party at Big Splash and the adjoining club, Tunnel.
DJs Ba-Da-Bing & Ka-Ching debut at Fridae's Boys of Summer party in June.
No stranger to partygoers in Hong Kong and Taipei, Taiwanese DJ David S. holds residency at Siro in Taipei, guest deejays at Eden in Taipei and is the Prima DJ of Decadence in HK. He is also noted for producing the 2002 World AIDS day souvenir CD in HK.
DJ Steel who specialises in vocal and anthem house, will be at the decks at Tunnel from mignight to 3am. A regular DJ at Salvation in Miami Beach and Heaven in Orlando, Florida, he is also the producer the monthly continuously mixed "Gotta Dance" CD series since July of 1999 which is distributed throughout the US and to Germany, Australia and Singapore.