Thousands in Singapore are expected to celebrate Nation.03 on 8 August 2003. The party, which is held for the third consecutive year, is recognised as Singapore's and the region's largest "coming out" party.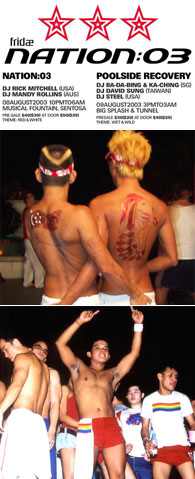 Photos from Nation.02
Some 1,200 Nation tickets had been snapped up within the first week since the tickets went on sale on 1 July, far exceeding original expectations and outstripping sales during the same period in 2002 and 2001. Space, however, is not a constraint at the Musical Fountain on the resort island of Sentosa as the venue, which was also the venue for last year's event, is able to accommodate up to 8000 partygoers.
The party, which coincides with Singapore's National Day, has attracted partygoers from the region and as far as the US. Tickets have, so far, been sold to people in more than a dozen countries and the party will see a large contingent from Hong Kong, Taiwan, Thailand, Malaysia and Australia.
The event's partner hotels - Sijori Resort Sentosa, Pan Pacific Singapore and Hotel 1929 - who are all having special offers for Nation.03 partygoers have reported a high number of bookings.
"All the suites and a good number of deluxe rooms were snapped up within the first week. We have reserved all 64-rooms of the resort for Nation guests during the weekend and we hope everyone has a blast!" Says Marcus Chan, Assistant Manager of PR and Events at Sijori Resorts, which is giving away a pair of Nation tickets for every deluxe room booked.
Fridae, the organiser of the event has submitted its application to the relevant authorities and has undertaken to work closely with the authorities to ensure that all security, crowd control and anti-terrorism requirements - including hiring CISCO security personnel and other security equipment - are met to ensure the safety of all partygoers.
In light of the recent media attention on gay issues including Nation, many partygoers Fridae spoke to are glad that news of the party is out in the open and that the media has taken an unusually positive stance regarding the gay issue and event.
Partygoers are assured that their privacy will not be compromised as media coverage and cameras (still and video) of any kind will be strictly banned in the party grounds. The party zone will also be cordoned off to prevent unauthorised access by the public and non-ticket holders.
A special 24-page commemorative program booklet will be launched this week and will be available at all Nation ticketing outlets.
Nation crew and official photographer needed
Fridae is seeking a team of enthusiastic and outgoing crew to help out at the Nation.03 party at Sentosa on 8 August and Recovery Pool party at Big Splash on 9 August. For Nation, you are required to help out from 7pm to 2am or 1am to 7am and for the Recovery Pool party, from 1pm to 3.30am; and attend a briefing at noon (till 2pm) on 7 August (in Singapore, not Sentosa).
Duties include: ticket/drink coupon sales, ticket check at the door, bag check, bump-in and out. Each helper will receive $30 cash, 2 extra complimentary tickets and 6 drink coupons per event. If you are interested, please email
ben.koh@fridae.com
with your name, contact no. and your choice of either event or both.
If you are interested to be an official photographer at Nation, please email
editor@fridae.com
with a link to your online portfolio (if any) and to arrange for an appointment for us to see your portfolio.
If you are interested to set up a food/party accessory/clothing/etc stall at Nation, please email
ben.koh@fridae.com
and tell us what you would like to sell at the party.