Way back when Kylie Minogue made her debut as Ms Buck Teeth with uncontrollable Maggi noodles for hair parakeeting "I Should Be So Lucky (Lucky Lucky Lucky)," Ms Scary had already declared herself a fan of Ms Minogue's brand of Stock Aitken Waterman sing-along-pop.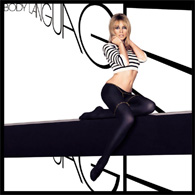 Through her incarnations as Pop Sex Kitten, Indie Princess and Reigning Disco Queen, Ms Scary has remained a most ardent supporter of Ms Minogue and copied her every look - especially during her least-dressed pop tartlet, I mean, starlet phase.
Reinventing herself as a luscious Brigette Bardot clone on the cover of her latest album
Body Language
, Ms Minogue gets a fashion thumbs-up from Ms Scary and will undoubtedly continue to drive straight and gay men to distraction worldwide. Unfortunately, the same cannot be said of the album's musical content.
As her ninth studio album,
Body Language
sees the best-selling pin-up princess turning her much-photographed perk behind on the dance formula which made her previous two albums
Light Years
(2000) and
Fever
(2001) such a big hit on gay clubs everywhere.
Sounding like a cross between Paula Abdul and Madonna circa "Lucky Star" and "Burning Up," the helium-voiced Thumbelina commits pop hara-kiri by serving up a Kylie Minogue album that no one can dance to.
As the first single, "Slow" showcases the hot-panted singer's sultry vocals set to over-produced down-tempo dance beats and offers a pretty good indication of what to expect from the rest of the album.
Filled with synthesised electro beats reminiscent of the best (or worst) of cheesy eighties pop, most tracks in
Body Language
lack the instant killer hooks of her earlier hits such as "Spinning Around," "In Your Eyes" or "Can't Get You Out Of My Head."
Faring slightly better are the Ms Dynamite co-penned "Secret (Take You Home)" containing Ms Minogue's rapping debut which sounds much better than a certain Ms "I do yoga and pilates" Ciccone; "Promises" (produced by dance legend Curtis Mantronix) with its strong groove line and retro disco whistles; and "Red Blooded Woman" with its clever lyrics that pay homage to 80s disco-drag group Dead or Alive ("You got me spinning round, round, round, round (like a record))."
Despite leaving no impression whatsoever on Ms Scary, the album's first single "Slow" entered the UK chart at the coveted No. 1 spot - thereby confirming Ms Minogue's pop longevity as she becomes
the
female artiste with the longest span of No. 1 singles with 15 years and seven months between "I Should Be So Lucky" and "Slow" - ahead of Madonna who comes in second with 15 years and one month.
In the face of such impressive pop credentials, even Ms Scary must learn to live with her disappointment and seek solace by replaying her favourite idol's earlier albums so that she can "(r)emember how it used to be ("Promises" in
Body Language
)."