Taiwan Vice President Annette Lu has provoked harsh criticism from the gay community and gay rights activists after suggesting AIDS was God's punishment for homosexuality, reported AFP.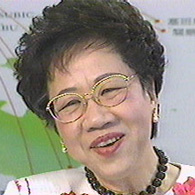 Former political prisoner, lawyer and Vice President Annette Lu
Television reports of an AIDS awareness event on Sunday have shown Ms Lu saying: "Some said the reason why AIDS spreads is because God can not stand it any more."
"God felt it's time to mete out punishment, or there would not be any difference between men and animals," she said in a speech promoting safe sex.
The 59-year-old former political prisoner, who holds Masters degrees in Law from both the University of Illinois and Harvard, also serves as chair of the president's human rights consultation group.
Local AIDS and gay rights groups have severely condemned her remarks and called her understanding of the illness backward and insufficient.
"For long AIDS and homosexuals have been wrongly blamed. If she really said that, then she would be just one of those who attempted to smear the image of homosexuals," Chan Ming-chou of the Taiwan Gay and Lesbian Association told AFP.
In her speech on Sunday, Lu also suggested that the government establish villages for people with AIDS and HIV so that patients could live openly and come out of the shadows.
The Presidential Office has released a statement on Monday expressing regret over the reports, saying Lu's remarks had been misinterpreted.
Even members of the vice president's own Democratic Progressive Party appeared embarrassed. "She should not have said (it)... But I think it was a slip of the tongue," DPP parliamentarian Lin Yu-sheng said.
Parliamentarian Chou Hsi-wei from the opposition People First Party blasted Lu, who is also the convenor of the human rights consultation group under the Presidential Office.
"How can our vice president say this? Just think some of the AIDS victims are children," the legislator said.
The island has a low rate of HIV infection compared with other countries in the Asia-Pacific region. According to the Centers for Disease Control and Prevention, a total of 5,550 people in Taiwan, including 5,125 Taiwanese citizens and 425 foreigners, were listed as HIV carriers from 1984 to November 30, 2003. Of these, 907 AIDS patients have died of the disease.
The final draft of a bill to legalise gay marriages and recognise the right of gay and lesbian couples to adopt children is expected to be ready for parliamentary review this month. If approved, the island would become the first region in Asia to legalise same-sex marriages.