Deputy Prime Minister Lee Hsien Loong has indicated in a speech on Monday night that a ban on gay activist groups, along with other interest groups, may soon be lifted as the government plans to ease curbs on political and social freedoms. In a speech to the Harvard Club, Lee set out his plans on the continuity towards greater openness and consultation when he becomes Prime Minister.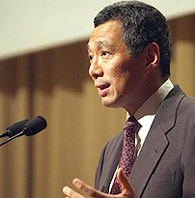 Deputy Prime Minister Lee Hsien Loong who is likely to take over the leadership this year.
Lee, who is likely to take over the leadership this year, said: "There will be other groups formed, I'm quite sure, to campaign for specific issues, gay rights for example, and that is a sensitive one." He made the comment during a question-and-answer session after the speech.
People Like Us (PLU), which was formed in 1992, had its application to register as a society rejected in 1997. After PM Goh Chok Tong's acknowledgement in
Time
magazine that openly gay individuals have been allowed to work in civil service, the group has since reorganised to take on a more active role, mostly recently campaigning against a series of seminars on reparative therapy organised by the Singapore Chapter of the US-based Focus on the Family.
While gay sex is still illegal, Singapore first-ever gay community center opened last month and the country hosts the annual Nation party in August, Southeast Asia's largest GLBT party.
Goh said in July last year that gay sex will not be decriminalised because of opposition from Muslims and the majority of other Singaporeans who are mostly conservative.
"You can call it double-standard, but sometimes it is double-standard. They are conservative. And for the Muslims, it's religion, it's not the law. Islam openly says the religion is against gay practice."
Christian groups in Singapore have also been vocal in their anti-gay views as evidenced by letters and columns published in
The Straits Times
decrying the government's move of employing openly gay individuals and expressing their support for the current laws that ban gay sex and groups from being officially recognised.
Local observers Fridae spoke to are upbeat about the news.
---
Eileena Lee who is the pro-temp President of PLU and owner of RedQueen!, an email discussion list for lesbian and bisexual women in Singapore said: "The DPM's assessment definitely brings hope to the many Singaporean daughters and sons who happen to belong to the sexual minority."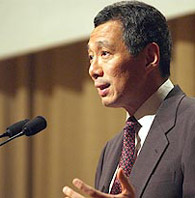 Deputy Prime Minister Lee Hsien Loong who is likely to take over the leadership this year.
"Legalising gay groups will give sexual minorities a face and voice. It will be a nod from our government, and will reduce the stigma of being gay, and will allow society to better understand us, and curb homophobia - discrimination, prejudice and sexual minorities being ostracised," she said.
A gay business owner, who prefers not to be named, feels that the news is symbolic and believes that officially recognising PLU "has always been a question of when as numerous other de facto gay groups, establishments, events and even companies have already been operating without any problems in Singapore for sometime now."
However, given its track record, he said although he believes that it will be soon before PLU gets its official stamp of approval, he would not be surprised if the government finds some way to disclaim that it is not advocating the "lifestyle."
Meanwhile, a Home Affairs spokesman announced that Sections 377 and 377A of the Penal Code, which bans oral sex, could be revised in two to three months. The move comes after an intense public debate in the media as well as Internet forums that was sparked off by a case involving a 27-year-old policeman who was jailed for two years last November for having oral sex. The review will however only be applicable to men and women above the age of 16.