Written by Alfian Sa'at and directed by Ivan Heng, the collection of eight short plays tells the stories of the lives of gay men in Singapore set against a familiar backdrop of saunas, cruising spots, parties, coming out issues, sex, and the city.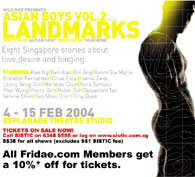 The 25-year-old Sa'at, who is currently an undergrad at National University of Singapore and an award winning poet and writer, notes that while
Vol. 2
is not a sequel to
Vol. 1
(2000) which was camp and the carnivalesque,
Vol. 2
travels a more poignant journey "marked by interruptions, pit-stops, interchanges [and] detours."
In a statement to Fridae, Sa'at rejected suggestions that he is using the stage as a platform to advocate the decriminalisation of homosexuality, as most of the plots are character-driven and "if there are issues, they are inextricably a part of the character's lives."
He added: "This whole idea of some kind of militant 'gay agenda' or 'minority agenda' or whatever that threatens or impinges on the status quo is a myth concocted by the most paranoid members of our society."
Vol. 2
, which features a 17-member cast, will feature scenarios and specific local landmarks and names familiar to the local community including "Supper at Maxwell," "The Kings of Ann Siang Hill," "My Own Private Toa Payoh" and "California Dreaming" seeks to examine the true meaning of freedom set against the backdrop of one of Asia's largest gay events, the Nation party which is organised by Fridae.
The final story, "The Widow of Fort Road" is based on a true story of the arrests of 12 gay men cruising off Fort Road a decade ago.
When asked if the public is ready to watch a play that deals so openly with local gay culture, director Ivan Heng said without restrain: "There will never be a time when 'the public' is ready. The public [wasn't] ready when women began to assert their rights, nor when the black slaves demanded their freedom."
Heng who is also the artistic director of W!LD RICE theatre company added: "
LANDMARKS
is a sophisticated, subtle and mature work, that goes beyond the kitchen-sink-nobody-knows-the-trouble-I've-seen gay play, and offers a glimpse into the lives and loves of these men (and the women who love them) who choose to make Singapore home."
LANDMARKS - Asian Boys Vol 2
Written by Alfian Sa'at
Directed by Ivan Heng
Starring: Alex Ng, Ben Xiao, Bill Ang, Bonni Sta Maria, Brendon Fernandez, Chua Enlai, Harris Zaidi, Loong Seng Onn, Micheas Chan, Nora Samosir, Phin Wong, Pierre Goh, Robin Goh, Sebastian Tan, Serene Chen, Tan Shou Chen, Tony Quek
Date: 4 - 15 February 2003
Time: 8.00pm
Venue: The Esplanade, Theatre Studio
Tickets: $38 (prices exclude $1 SISTIC fee)
Discounts: 10% discount for Manhatten cardmembers & Standard Chartered credit cardmembers; 10% discount for Fridae.com & ASA members, Students, Full-time NSmen and senior citizens.