Following the success of its Nation and SnowBall last year, Fridae's first party this year Squirt will be held at Palawan Beach, Sentosa and a small private island off the beach on April 10. Upcoming local DJ George, and Los Angeles-based DJ Kiokio will turn the private palm tree-dotted island into a party playground never before seen or experienced.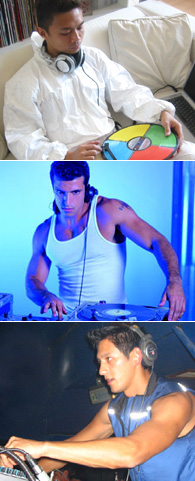 DJ George and Kiokio for Squirt on Apr 10, and Antwone for Slurp on Apr 11
Singapore DJ George, with his mix of melodic tech house and progressive beats, promises to get the crowd hot and wet for Los Angeles-based DJ Kiokio at Squirt on April 10. After having paid his dues in producing albums for Asian divas and superstars including Sandy Lam, and the late Leslie Cheung and Anita Mui, George is now known as one of the pioneers of the local underground club scene and after-hours parties at venues such as The Box and the Post Nation / Snowball parties at Towel Club.
Born Carlo Chiocchio (which rhymes with Pinocchio), the good-looking 28-year-old Canadian decided to simplify his name to Kiokio after he realised that the original Italian spelling was confusing for English speakers. He began his coming out party with a two-and-a-half-year residency at Pump, a popular after-hours spot in Miami Beach.
In the three short years that Kiokio has been spinning, he has played his combination of deep progressive house with a flavour of tribal and classic house to clubbers during major holidays including New Year's Eve and Halloween in LA, San Diego, Dallas and Atlanta as well as Salvation in Miami. Having recently finished his tenure at Miami Beach's Frequency, Kiokio now resides in LA where he spends more time in music production.
Bangkok-based DJ Antwone will melt the floor at Slurp at the world famous Zouk Club on April 11 with his unique blend of uplifting West Coast funky and tribal house grooves. Recently featured on the cover of Men's Health March 2004 (Singapore edition), the part-time model began his DJing career in the mid 90's by playing at underground raves in Vancouver, Canada.
In late 2001, he relocated to Bangkok, Thailand after completing his studies. After various gigs across SE Asia and a 6-week residency at Hong Kong's Home club, 2003 saw Antwone spinning at Bangkok's top venues, with residencies at the famous Bed Supperclub and Lucile Disko (RCA). He now plays every Thursday for the sexy "Sindustry" night at Mystique Club. Antwone has also produced the funky new track "Fantasy Female" on the Voo Doo records "Bkk DJ's" CD House compilation.
Early bird combo tickets for both events will be available on Fridae.com till Mar 14 at S$55. Presale combo (S$60) and individual tickets (S$40 & S$25) will be sold online as well as RE-, Towel Club, Jox and Estique Salon from Mar 15 - Apr 7. Tickets will also be available at the door at S$50 & S$30.
Patrons are advised to purchase their tickets early as tickets are going fast and not guaranteed at the door. Limited to 1,500 tickets per event.