From denying the existence of HIV/AIDS in China to concealing numbers, China has announced that it would set up the first outpatient department for gay men at the Shenzhen Municipal Hospital of Epidemic Diseases.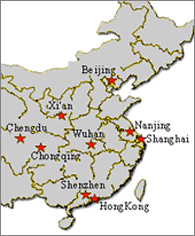 An estimated 100,000 gay men live in the economically booming city of Shenzhen.
According to a Xinhua news report, the new outpatient department is aimed to help prevent sexual transmission diseases (STD) and AIDS from spreading in the southern metropolis, through offering special medical service to the city's growing number homosexuals.
It's estimated that there are about 100,000 gay men in the economically booming city of Shenzhen which borders Hong Kong Special Administrative Region. The figure, which is said to outnumber gay men in the Chinese mainland, is still gaining momentum.
Cheng Jinquan, president of Shenzhen Municipal Hospital said that medical experts and doctors from abroad, mainly Britain, will set up the clinic which would open this year. The hospital has also tied up with the British Royal Hospital project in preventing and treating dermatosis and STD in Shenzhen. The project named the Sino-Britain Service Centre of STD and Dermatosis had officially began service on Tuesday.
"AIDS and STD are actually threatening Shenzhen and even the whole of Guangdong Province," Cheng said.
The province of Guangdong has the fourth largest number of detected HIV/AIDs cases in the country, following Yunnan Province in Southwest China, the Xinjiang Uygur Autonomous Region and the Guangxi Zhuang Autonomous Region, said the report.
Guangdong has been estimated to have more than 30,000 AIDS patients and virus carriers by the end of last year and in the last year alone, a total of 191 people were detected to be AIDS patients.
In medical examinations for 120,000 pregnant women in the city last year, 550 of them were diagnosed to have contracted syphilis.
The government estimates there are 840,000 HIV/AIDS cases, but international experts believe the real figure is much higher and have warned there could be 10 million cases by 2010. Despite the official figure, Chinese officials said that only 10 percent of those people know they have HIV/AIDS.
In related China news, a male to female transsexual in Shuangliu County in Southwest Sichuan Province has become the second transsexual to be allowed to legally marry in recent months. According to local media, the 37-year-old, Zhang Lin, who fathered a 12-year-old daughter by his former wife prior to her surgery, also received a new ID card.
China's Ministry of Civil Affairs' marriage affairs department said that while China does not allow same-sex unions, it allows transsexuals getting to get married to an opposite-sex partner.