A senior bank executive from Singapore's DBS Bank revealed that the bank would consider rolling out a credit card for gay consumers.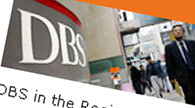 Edmund Koh, head of DBS consumer banking, told reporters on Thursday at the launch for its DBS Woman's Mastercard: "If the market is big enough, we will consider."
According to a report by Dow Jones, DBS Bank is currently Singapore's second-largest issuer of credit cards with about 620,000 credit cards in the country, while rival United Overseas Bank Ltd has issued over 900,000 cards.
Raymond Ang, head of DBS's credit card and unsecured loans business, added that the bank is studying the viability of a DBS Man's Card to increase its market share by issuing new credit cards targeted at niche markets.
The Singapore government owns 28.8% of DBS.
Although Prime Minister Goh Chok Tong said last year that his administration would hire openly gay people, the government had recently refused to allow Singapore's only gay advocacy group, People Like Us, to register as a society. Although the city-state has boasts a lively gay scene and prosecutions of gays are few and far between, gay sex remains a crime punishable a maximum two years in jail.
While most people Fridae polled would consider applying for the card, some have expressed reservations about using a gay card at a non-gay establishment or with family and/or friends who they are not out while some are worried about being publicly identified as a gay or lesbian while laws criminalising gay sex are still in place.
Daniel Lee, a 33-year-old corporate affairs executive explained: "As much as we have to celebrate from the explosion of visibility in recent years, the denial of registration to groups like PLU has ominous undertones. No community is ever safe if laws exist on the books that have been - and could be, at any time - broadly interpreted to deny freedom of association, stigmatise a group as "unnatural" or deviant, or justify arrest. However improbable it may seem, any marketing tool that identifies members of a criminalised group can potentially aid a witch hunt."
Another 30-something told Fridae that he would apply for the card if it "offers perks and promotions with a specific gay slant such as free entry to gay clubs and saunas, discounts for gay fashion outlets and arts events, etc... However, if the perks and promotions are no different from the usual credit cards, the why would I want to 'mark' myself as a 'gay man' and potentially risk discrimination every time I use this DBS credit card?"