Dig out your padded bras and glitter frocks, because The Necessary Stage's production of the gasp-provoking Mardi Gras is back. After a flaming sold-out run last year - never mind the lukewarm reviews - director Alvin Tan and playwright Haresh Sharma decided to restage it with something old and something new.



The story remains essentially the same - about a motley group of friends who are trying to organise Singapore's first gay pride parade. The wild X-rated jokes and rapid fire bitching are still there, as are the tart-tongued drama queens and the straight-acting closet cases.
But Alvin and Haresh have also taken note of the criticisms hurled at last year's production and made changes to the script and cast.
Says Haresh, "Last year, we went for the look-good, feel-good factor. We had some actors who were attractive, but couldn't convey the poignancy of some lines. We've changed that."
This year, the lead character of Ben the closeted schoolteacher will be played by Zahim Albakri, an experienced theatre actor from Malaysia. His boyfriend, Alex, will be played by body-beautiful Jay Espano from the Philippines, who will be shirtless for most of his scenes. Yummy.
But as director Alvin stresses: "These guys are good-looking - and - good actors."
Meanwhile, the hilarious supporting cast from last year will return to ham it up. It includes Hossan Leong as the splendidly flamboyant makeup artist Faith, Kumar as his gender-bending girlfriend-boyfriend and Irene Ang as the shy lesbian who's very much in love with a famous news editor.
In the role of the news editor is - gasp! - Koh Chieng Mun. Now, imagine the odds of Irene - whom we best know as Rosie in hit local sitcom
Phua Chu Kang
- exchanging rings in a gay wedding with Chieng Mun - whom we best know as Dolly from another hit local sitcom
Under One Roof
. Weird, no?
Paerin Choa also returns in the controversial role of Ben's brother, who harbours an unspoken attraction for his elder brother.
With a sharper, tighter script - last year's four-act play has been compressed into three acts - as well as some wicked new jokes, this year's
Mardi Gras
is easily an improvement from last year's.
TOP OR BOTTOM
But the laughs - and tears - don't stop there. The creators of
Mardi Gras
were also inspired enough to create a sequel called
Top Or Bottom
, which will begin its run shortly after
Mardi Gras
ends.
While
Mardi Gras
examines the issues faced by the Singapore gay community as a whole,
Top Or Bottom
looks at problems faced by the gay individual.
Hossan Leong takes the lead role of makeup artist Faith who has to deal with the untimely death of a friend. It leads Faith to question the way he has lived his life, including the choice he made long ago to come of the closet and set it on fire.
With Hossan as the star of
Top Or Bottom
, Fridae asked him if he was
Top Or Bottom
.
"What do you mea...?" he shot back, looking somewhat startled. "Uh, um, er, I'm versatile."
Yup, honey, that's what we all say.
"Mardi Gras" and "Top or Bottom" are part of the first ever Nation.04 Arts programme which includes several other plays and art exhibitions. More info on the Nation subsite.

Win a pair of tickets to Mardi Gras (28 July, 8pm) and Top or Bottom (4 August, 8pm)! Simply email editor@fridae.com by noon, 26 July and tell us if you think it takes being a bottom to know how to be a good top.
---
BOYS, BOYS, BOYS
What's a gay play without eye-candy?
Mardi Gras
has it covered, with Paerin Choa as the preppy twink with an achingly sweet smile and limpid doe eyes. The 28-year-old returns to his controversial role of Brian, who has unusual yearnings for his brother Ben.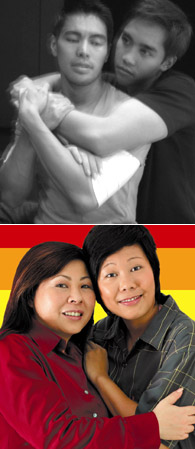 Meanwhile, Filipino stud Jay Espano plays the role of Ben's boyfriend, Alex. With his rippling biceps and washboard stomach, Jay promises to keep the theatre's temperature up by keeping his shirt off. Jay is 30.
æ:
Is it tough being the eye-candy in the production? Do good-looking guys like you always have to prove that you're more than pretty faces, that you're actually talented?
jay: Yah, sometimes. People expect me to be stupid, so I studied a lot in school. I took communication studies, I went to business school, I studied theatre.
paerin: I don't go out to prove myself as intelligent. I just to treat people as genuinely as I can and hope that me personality show. This pretty face is subjective anyway, not everyone finds me attractive.
æ:
Really? You look like everyone's type. Anyway, ever had people stalking you?
jay: In the Philippines, I have had men and women calling me, asking me out, and giving me gifts like watches - which I didn't resist. (Defensively) Hey, they're gifts!
paerin: After last year's run, there were people who came up to me and scolded me. "Why must you be so incestuous?" they asked. (Somewhat sadly) They really hated me. They were stalking me for all the wrong reasons.
æ:
Being such pretty boys, how many hearts do you reckon you have broken in your entire life?
jay: Not a lot. The broken-hearted one was always me. I've been dumped 5 or 6 times.
paerin: My heart has been broken only once. I don't think I've broken anyone's heart. I reject people quite nicely. I've rejected about five to six people.
æ:
Ever joined some beauty pageant, like Mr World?
jay: Don't you mean Miss World? Nope, never.
paerin: No.
LET'S HEAR IT FOR THE GIRLS
Eye will pop and jaws will drop when the two sitcom queens of Channel 5 - Irene Ang from
Phua Chu Kang
and Koh Chieng Mun from
Under One Roof
- get married in a lesbian wedding in
Mardi Gras
.
Koh is well-loved as the good-hearted housewife Dolly in
Under One Roof
. Irene has tickled us pink with her goofy
tai-tai
(Chinese for wealthy housewife) routine in
Phua Chu Kang
.
But in
Mardi Gras
, Chieng Mun plays a high-profile media figure who is afraid of leaving the closet because she may lose her position. Irene plays her girlfriend.
Fridae asked the actresses what's they have in store for their girl audiences:
æ:
So, can the girl audiences expect some action between the two of you?
chieng mun: What do mean? Physical action? (Sternly) This isn't about that. We do kiss on stage, but it's a beautiful kiss between two people who love each other.
irene: We try to make the kiss look as non-sexual and non-erotic, so people know we're kissing out of love.
æ:
Please forgive Fridae's digital mind for having dirty thoughts then. Anyway, do you think people might be tickled and go: Look, it's Dolly and Rosie in a lip lock!
irene: Hahaha, yes, we've find it funny too, we've made a lot of jokes during rehearsals.
chieng mun: Yes, some audiences might find it rather bizarre that it's Dolly and Rosie, but it's up to us to play our roles convincingly as lesbians.
æ:
Chieng Mun, how much do you know about the lesbian culture - considering you're one of the few people in the cast who are actually straight? Have you ever been to an all-girl bar?
chieng mun: No, I've never been to a gay bar. But I imagine that it is no different from a straight bar. (Sternly) As I said, gay love is no different from straight love.
(Editor's suggestion: Maybe Chieng Mun should conduct some field research and pop down to Irene's grrrls-only party held every first Tuesday of the month at Centro pronto, to witness displays of unabashed erotic and sexual kisses between girls!)
æ:
Hmmm... I'm not so sure about that. Irene, what do you think of the recent
Lianhe Wanbao
articles, where a reporter went undercover to gay saunas and gay bar and exposed what went on in there?
irene: (turning angry and passionate) I think that reporter is despicable and should be shot dead. You know, you can find more sleaze in some nightclubs with girls from China and Singaporean men - but these things are not reported. There are obviously double standards here. Why doesn't the reporter show the more positive side of gay life - of couples who love each other and have stayed together for years, of lesbian groups which have dedicated their time to charity work, and so on? Singaporeans must learn to respect people's privacy and not be so kaypoh!
Ticketing details:
Mardi Gras
will be staged at the Jubilee Hall, Raffles Hotel from July 28 to August 1 at 8pm. There are also 3pm matinees from July 31 to August 1.
Top Or Bottom
will be staged at the Jubilee Hall, Raffles Hotel from August 4 to 9, and from August 11 to 14 at 8pm. There are also 3pm matinees on August 7 and 8, and August 14.
The plays are rated RA(18) (for audiences 18 and above only). Tickets at $26, $36 and $46 are available at SISTIC (tel: 6348-5555 or www.sistic.com.sg). Concessions available for students, NSF and senior citizens. Get a discount off tickets by using the password "Rainbow Fridae" at SISTIC.
For more information, call Rainbow at 6440-8115 or visit the website below.