In response to new regulations announced by newly installed Singapore Prime Minister Lee Hsien Loong's speech, gay group People Like Us and online discussion group, Signel, are considering organising a gay forum and exhibition.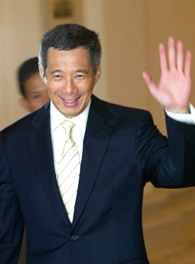 Newly installed Singapore Prime Minister Lee Hsien Loong said organisers would not require a licence for indoor forums from now.
PM Lee, who took office on Aug 12, was speaking at his first National Day Rally speech on Sunday night when he said that the authorities would not require a licence for indoor forums.
While the National Day Rally addresses typically call for the country and its citizens to be more receptive to change and progress, PM Lee surprised some as he announced concrete policy changes including allowing indoor events that do not touch on 'race and religion' to be held without organisers having to apply for a Public Entertainment licence which was previously needed for all public talks.
In May 2000, People Like Us (PLU) had its application to hold a forum turned down while a theatre group was refused a permit to hold a lecture series on gay literature in March 2004.
PLU's appeal to register itself as a society was turned down in May 2004 after they had their second application rejected by the Registrar of Societies two months prior. Their first application was in 1997.
The Speakers' Corner at Hong Lim Park which was set up four years ago and based on London's famous forum in Hyde Park, to allow interested individuals to speak their mind can now hold performances and exhibitions.
"I mean, free expression as long as you don't get into race and religion and don't start a riot," he said, encouraging Singaporeans to "speak your voice, be heard, take responsibility for your views and opinions."
Alex Au, co-founder of PLU urged the community to support the forum although the law has not been formally changed. His email read, "Let's not behave like the queue at Changi Airport, lining up with docility at the Citizens counter, not seizing the other open lanes. It doesn't matter whether the regulations have been formally changed or not, they have no more moral leg to stand on to shut us down.
"We have to make ourselves look like the winning side, so everytime we get a small aperture, we seize it as OUR [emphasis his] victory, loudly. Thus we need to have not just a gay forum but a very PUBLIC [emphasis his] gay forum. What we say in it doesn't matter a lot. That we are holding one, as big as possible, matters!"
Au is appealing for volunteers to help organise, reach out to contacts for venue and speak at the Speakers' Corner. He can be reached at
signel@yahoogroups.com
.