Manazine has announced that the magazine will move from being a free pick-up zine to one that would only be sent to subscribers or available to card-carrying members at selected outlets.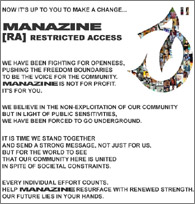 The publisher's decision was in response to discussions with Media Development Authority (MDA) who met with the magazine publisher on Aug 11.
According to the Singapore
Straits Times
, MDA had received complaints by concerned parents about the magazine's homosexual content easy availability. MDA's spokesperson added that the authority had reminded Arjan Nijen Twilhaar,
Manazine's
publisher and chief editor, during the meeting that local magazines should not promote homosexuality as a lifestyle.
Twilhaar who adopted the 'controlled distribution' approach said in the Times, "We were also told to be sensitive to society's reactions to the gay issue. We listened to the advice and made sure that we do not cross the line."
In March, the publisher had to withdraw most of the 10,000 copies of its third issue over its use of half-nude male bodies and "pro-gay" content in its third and previous issues.
"It is now up to the community to keep
Manazine
going. We are working hard on our second series, which will be completely different from our first annual theme. We have some celebrity contributors, like Margaret Cho, Hossan Leong and Cyril Wong, and we are excited about our new format.
Manazine
also gets more attention from corporate Singapore, which is essential if we want to see a more integrated community," said Twilhaar.
The bimonthly magazine, which was first published in October 2003, was previously available at numerous outlets including bars, theatres, cafes and restaurants; will now be available at S$25 per annum for six issues or S$20 if picking up from their office or at selected outlets.
For subscription info, please click on the link to emanazine.com below.