SGBOY.COM, a popular web site catering to Singapore gay users, has on Monday denied that it is facing a "clampdown" by the Media Development Authority's (MDA).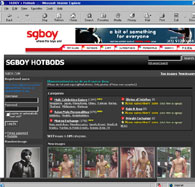 The MDA has reportedly objected to the use "raunchy pictures" on SGBOY's subscription based HotBods section, the use of explicit sexual language in its Personals and bulletin board.
In a statement, it said that the site would be relaunched under a new name, 'SGBOY.COM Integr8' and have been "corresponding closely" with the authorities to review the content of the new site.
The statement - posted on its bulletin board - also highlighted that the site is "currently under no extra scrutiny as any other alternative mediums in Singapore."
However, according to a report by activist Alex Au last Friday on SiGNeL, a local email discussion group, MDA is said to have objected to the use of "raunchy pictures" on the site's subscription based HotBods section, the use of explicit sexual language in its Personals section, and requires its webmaster to bar such ads as well as to shut down certain sections of its bulletin board due to its overt gay content.
When contacted by Fridae, SGBOY denied that the validity of the report. It said: "With regards to the recent speculations and postings (one notably from SiGNeL) about MDA clamping down on SGBOY.COM, we would like to say that there is no concrete information to support these reports."
A spokesman for SGBOY asserted that MDA had not singled out any sections of the site nor does SGBOY plan to remove any content from the current site.
The MDA's Internet Code of Practice, which applies to local Internet Service Providers and Internet Content Providers, prohibits material that is "objectionable on the grounds of public interest, public morality, public order, public security, national harmony, or is otherwise prohibited by applicable Singapore laws" which takes into account in this case: "whether the material depicts nudity or genitalia in a manner calculated to titillate and whether the material advocates homosexuality or lesbianism, or depicts or promotes incest, paedophilia, bestiality and necrophilia."
Au has declined to comment although he maintains that SGBOY has in fact been sent a letter by MDA as outlined in his original post which has since been deleted from its online archives. He has however clarified that he hasn't seen the letter.
The 5-year-old site is said to have been the subject of persistent complaints by members of the public since March, according to another SiGNeL post.
Earlier this month,
Manazine
, a Singapore gay magazine announced that it would move from being a free pick-up zine to one that would only be sent to subscribers or available to card-carrying members at selected outlets after discussions with MDA.