By Saturday, November 13, almost every gay child who has come out to their parents would have had these words urgently spoken to them by their parents: "Do you know that being gay means you have HIV (or AIDS)?"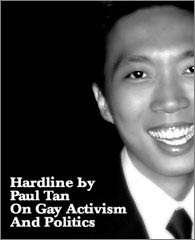 Whether our Senior Minister of State for Health, Dr. Balaji Sadasivan intended it, the effect of his speech on November 10 was precisely that. Certainly, he encouraged the now-denounced link between homosexuality and HIV by saying that casual sex among homosexuals was "the bigger problem." Never mind that 80% of the HIV cases in Singapore involve heterosexuals. The minister says that there are more cases of HIV diagnoses this year. Never mind that this could actually be due to more homosexuals being tested - a positive sign that education is working.
The problem with HIV is that it is a sociological phenomenon that makes other strategies effective against other diseases stubbornly ineffective here. Unless the minister intends to refuse all HIV-carriers entry into Singapore, or electronically tag them for the rest of their lives, "contact tracing" is infeasible. So is mandatory testing, which would require every resident in Singapore to submit to tests every three months so that we may identify such carriers the moment the virus manifests itself. Then comes the next question. What do we do once we know who has the virus? Do we forbid them from any sexual relationship? Do we name and shame them?
It is not a question of pitting individual rights against societal concerns. It is a question of how best we can solve the problem.
The starting point, I believe, is attitude. The minister jokes that the term "men having sex with men" is too graphic. But if one cannot even picture the reality of what is happening, how does one tackle the problem?
This, I believe, is the number one reason why education efforts among homosexuals are not as effective as we like them to be. That is, a blindness in government and society to the fact that homosexuals exist, and that they have sex. And no matter how many police raids are conducted of gay saunas, someone is going to rent his flat out to his friends for a sex party. (I should add that I do not believe ALL homosexuals behave in this way. Indeed, most probably do not. But they are not the targets of this essay.) Thus, education is the key.
But education cannot exist when homosexual sex acts are illegal. This is because the government cannot be seen funding the "safe conduct" of an illegal act. By encouraging safe sex among homosexuals, the Government may be seen as encouraging MSM. In fact, the police also forced Action for AIDS to close its booth outside of this year's Nation party - leaving no one to hand out condoms or anti-AIDS advertisements.
That is why Action for AIDS is limited in its outreach programmes. While it is run by extremely remarkable and brave volunteers (I dare anyone to volunteer taking the blood of and counseling HIV positive persons every weekend), there is only so much they can do without further support.
Criminalising gay sex acts also means that fewer homosexuals come forward for testing because of the fear of being reported. If the law develops along the lines that the minister urges, it would accelerate our path towards 1980's San Francisco sooner than not doing anything about the situation.
But as I said, the problem is sociological. In the gay community, I suspect, the problem is more acute. First, one faces the social derision that often accompanies being gay. If our own minister cannot talk frankly about MSM, how do we expect our teachers, the media and society to discuss the issue in a serious and sensitive manner?
Second, I do believe that promiscuity (if that is an accurate proxy for unsafe sex) is, at least in part, a reaction to the dehumanising effects of laws that do not support stable same-sex relationships and socially-held stereotypes that scorn those relationships as unnatural and sinful. Whether we want to admit it, there is no denying the effect that such pressures have on individuals and how they perceive themselves, others, and themselves in relation to others.
I agree with the minister that the gay community itself should listen and be aware of the debilitating effects of unsafe sex. As Larry Kramer, an American gay icon said, homosexuals are
murdering
each other every time they do not use a condom. But that message cannot get across when society and the law fails them.
If you want homosexuals to act responsibly, perhaps the first step is to act responsibly towards them.
Often labeled a left-winger, Paul Tan looks forward to a career that involves, at various stages, litigating constitutional and criminal cases, teaching, politics and being a restaurateur. He can be reached at tanpaul@hotmail.com.