As part of Fridae's ongoing effort to promote safer sex among the GLBT community, the web site has launched a unique online red ribbon campaign giving a new twist to the universally recognised symbol originally created in 1991 to symbolise "our sympathy, support and hope for a day without AIDS." The Fridae red ribbon campaign also serves to kick off Fridae's comprehensive HIV/AIDS awareness programme which will be launched next year.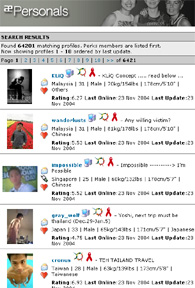 Any user who has a profile on Fridae can declare his/her commitment towards safer sex by selecting the "Practise safe sex" option on "My Profiles" page.
With Fridae's online red ribbon campaign, the portal which boasts over 150,000 users and almost 100,000 Personals profiles in three languages, calls for its members who are sexually active to examine its sexual practices, and to make a personal commitment towards safer sex practices without delay.
According to the latest report by Action for AIDS (AfA), Singapore's only HIV/AIDS advocacy group, the number of new HIV cases reported among MSM in Singapore had almost doubled from 28 in 2000 to 54 in 2003 to 77 in the first 10 months of 2004 despite gradual tapering of rates of infection for general population.
In 2003, one in four males diagnosed in 2003 were MSM compared to one in seven in 2000. The numbers have sounded the alarm as it suggests that a large number of MSM - despite being a small local gay population - are not practising safe sex, whether with partners, or strangers.
The move also comes as the Singapore health ministry announced on Sunday that it would involve Fridae among other partners to get the safe sex message across to respective target groups.
"The campaign aims to empower our members and to encourage them to declare their commitment towards safe sex by displaying the universally recognised red ribbon symbol in their profiles. By creating a community of peers who share the same commitment, we hope to nurture an environment where it is the social norm to practise safe sex, thus making any other practise unacceptable." Said Stuart Koe, CEO of Fridae.
Action for AIDS' Programme Director, Roger Winder supports the programme and said that online education is especially important as the Internet has been found to be the main way in which MSMs hook-up with partners.
He noted that like with most online programmes, the campaign might "see a few persons not being totally honest about their safer sex preferences" and reminds users that they should err on the side of caution if they encounter any such cases.
"The campaign will encourage people to think about the issue and make a personal commitment in relation to safer sexual practices. It will create a supportive and conducive environment for safer sex for those who have made this commitment and may exert just a bit of pressure on those who put themselves and others at risk.
"I see the campaign as being especially useful for younger MSM, who will be reminded of the choice they need to make for themselves as well as in choosing their partners. They are less likely to be caught in a situation where they are unsure what the norm is and to be pressured into unsafe sex," he said.
More than 300 Fridae users have made that commitment towards fighting HIV/AIDS through safer sex within two hours of the programme being launched. Any user who has a profile on Fridae can declare his/her commitment towards safer sex by selecting the "Practise safe sex" option on "My Profiles" page.