Fridae would like to thank everyone who has written to the press, the Prime Minister and various government departments to express why rejecting an application to hold a party on the basis that it would be attended predominantly by gays and lesbians is blatantly discriminatory, and thus unacceptable.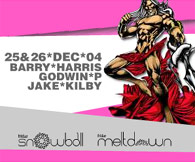 In a statement on Wednsday evening, the Police said that while they do not discriminate against "Singaporeans with gay tendencies," they "cannot approve any application for an event which goes against the moral values of a large majority of Singaporeans."
In the meantime, Fridae is appealing the decision. In the event that SnowBall is cancelled, a full refund will be granted.
Readers are urged to write to (please copy
info@fridae.com
if you do so):'
- Prime Minister's Office (
pmo_hq@pmo.gov.sg
),
- Feedback Unit (
feedback_unit@mcys.gov.sg
),
- Ministry of Home Affairs (
mha_feedback@mha.gov.sg
),
- Singapore Police Force Licensing Division (
SPF_OPS_Licensing@spf.gov.sg
),
- Singapore Police Force Licensing Public Affairs Department (
spf_spinet_webmaster@spf.gov.sg
),
- Singapore Tourism Board (
feedback@stb.com.sg
),
- The Straits Times Forum (
stforum@sph.com.sg
) and
- Today Newspaper Forum (
news@newstoday.com.sg
). Writers to the forum pages should include his/her full name, address and a telephone contact number. For women, please indicate Miss, Mrs or Ms.
___________________________________________________________
The following is from Rev Dr Yap Kim Hao, a former Bishop of The Methodist Church in Singapore and Malaysia, and currently a Pastoral Advisor for the Free Community Church (FCC) in Singapore which counts many gays and lesbians as members.
Dear Sirs
The rejection of the application to hold the "SNOWBALL" event has sent a confusing message to the world and in particular to the people in the region who plan to participate. There is increasing appreciation for the open and compassionate society that is evolving and an inclusive society that Singapore is becoming. This is the image that we have to project in order to retain and attract foreign talent to our shores.
May I as a Christian clergyman and a former Bishop of The Methodist Church in Singapore & Malaysia appeal to you to consider again granting the permit to hold the event this year. I have publicly applauded the stance of the government in stating that homosexuals are welcomed to work in the public sector and they will not be discriminated upon even in sensitive areas. This is highly commendable and the world is now seeing Singapore in a new light. Let us not send a contradictory message and give them a wrong perception at this time.
We are concerned with the spread and increase of HIV/AIDS is so many countries. I personally know with certainty from my relationships that there is self-regulation in place in the gay community sometime ago. They themselves have questioned promiscuity. They have been warned about the dangers of multiple partners and unsafe sex. They are aware of the need for the use of condoms. They have encouraged one another to control the spread of HIV/AIDS and sexually transmitted diseases. They support and relate to the Action for Aids programme and in anonymous HIV testing regularly. The gay community has done much, much more than the heterosexual community that I belong to in addressing sexuality and related sexual diseases and their prevention. It is in the heterosexual community that we need more education on such matters. More women and consequently more children are infected because of the heterosexual lifestyle.
In my relationship and pastoral service to the gay Christian community I have witnessed that they act with decorum even in a private religious or social gathering and definitely in public. They act like any other strictly heterosexual group. I fear that in their anger with rejections from so many quarters that they face they are tempted to flaunt but they will not do it when there is increasing acceptance on the part of the public. Let us help the gay community to lead a respectable and responsible life making their contributions to our society.
May I therefore appeal to you to review the decision made.
Yours cordially
Rev Dr Yap Kim Hao
Singapore
---
I was surprised and very disappointed at the recent decision of the police department to reject an application for a license to hold a gay-oriented Christmas party in Singapore. As Singapore seeks to position itself as a world-class global city and a hub of creativity and dynamism, it is important that we are open to diversity and foster an atmosphere of tolerance for various lifestyles.
Besides having no legal justification - the activities at such parties break no laws - gay parties bring in significant tourism revenue from overseas and support Singapore's image as a progressive society. Based on a study commissioned by STB, Nation.04 (a similar party held in August) was estimated to have generated S$10 million of tourism dollars. As the Straits Times also reported, there is a close correlation between prosperous, creative societies and the degree to which they are open to diversity, with tolerance to gays being one such indicator.
Our PM Lee Hsien Loong, in his National Day Rally speech this year gave many gay and lesbian Singaporeans, including myself, an inspiring and bright outlook of the future Singapore - an open society which welcomes talents and diverse views, a society where every citizen counts, and every citizens is given the opportunity to develop his/her full human potential, regardless of creed. Now that, to me, is the Singapore I would like to see in the future. That is the Singapore I will be proud of to call my home - the home that accepts me for who I am and gives me equal rights like any other citizens of Singapore.
The direction of the future Singapore should be that of a progressive nation, not a conservative one, and pandering to intolerance and ignorance does the nation no good. Today, hundreds of thousands of gay men and women live in Singapore; no one can deny our existence by vague statements like "we cannot accept, we are still very conservative and traditional".
Cause, we are already here.
Mr William Tan
Singapore
___________________________________________________________
Your Excellencies, Mr. Wong, and fellow citizens
Throughout Singapore's history we have been ruled by others, fought for civil peace, dispelled potential invasion, and now are on the road to creating a socially superior nation that we can all be proud to live in. Nations in our region, and indeed around the world, are beginning to look to Singapore as a model in racial integration and harmonious cohabitation regardless of creed, sex, race, colour, religious background, social status and indeed sexual orientation. Our great nation has brought itself to a level that is second to none in Asia for having a lack of corruption in government, high levels of education and compassion for the good will of our fellow citizens. These great achievements have been made not by stamping out one group of people or favouring another.
To allow a small number of politically biased men in the police force to dictate the natural social flow of our country is absurd. It is indeed the right and duty of leaders and citizens such as yourselves to protect the rights of celebration for any social gathering that falls within our laws. If not for protecting our rights at least a clear look at the enormous economic implications should be considered when repealing the decision of revoking a permit for the Snowball 2004 celebration.
I ask you now to disallow the unilateral decision handed down by a very few fanatic ultra conservatives in the ranks of our good police force and overturn the idea of stopping a celebration that not only adds millions of dollars to the Singaporean economy but also serves as an ambassador and show case of the social and political advancements that Singapore has made in the past decade to the world. Censorship may be used to stomp out political rivals in some banana republics but these celebrations are not political events, these are social events and in no way gives offence to any of Singapore's citizens based on our multicultural norms. The very idea that the police claim that certain individuals took the time to write to them in protest after attending an event held as harmonious celebration is ludicrous and I challenge that charge as a ridiculous lie. Stop oppression and help Singapore live in natural harmony for the prosperous future of us all!
Antonio P. di Liberatore
Tokyo, Japan
---
Dear Prime Minister Lee
I am currently a Singaporean student studying overseas at a respected American university. Despite everything the world has to offer, I have always considered Singapore my home and have remained extremely proud of the fact that I am Singaporean, throughout my time overseas. As such I have spent many hours in conversation defending and promoting Singapore to whomever I meet, trying to change the common impression of my fellow students that Singapore is the 'canning state', authoritarian with little to show other than economic strength, devoid of culture and liberties that people here often take for granted.
I often point to the way that Singapore has been opening up, how racial, cultural and sexual tolerance is becoming the norm. I am able to do so wholeheartedly as I have never felt oppressed or stifled in Singapore.
Just yesterday, I read to my dismay that the police had rejected a PELU license for Snowball04, a gay and lesbian party that to my knowledge has been held for the past few years. It may seem rather insignificant, but it is events like these that show the world that Singapore is not a closed, intolerant society. But more importantly, it shows Singaporeans that they live in a society that embraces people from every creed.
It seems impossible and perhaps foolhardy to draw a distinction between types of tolerance, may it concern race, culture, religion or sexuality. Tolerance and diversity cannot be compartmentalized as they work across all modalities. To cultivate tolerance and diversity in one arena and deny it in the next cannot possibly result in any benefit.
The reason given by the police for denying the license pointed to the fact that there were complaints about gays being intimate in public places after the event. The truth is that people behave intimately outside every nightclub, red light district and bar in Singapore. While I have no doubt that this offends the sensibilities of some people, it is not illegal and in the majority of cases tolerated by the public in general. The only conclusion one can draw is that this is discrimination solely on the basis of sexuality.
I want to come home to the country I love knowing that it welcomes me as an individual. That I will have space to express myself, cultivate my interest and contribute to its development. I have never personally been to any of the previous parties described above but the option to go, the choice, is something that is important to me and I am certain that many others, gay or otherwise, feel the same way.
I sincerely hope that the relevant authorities will reconsider their application.
Random7
US
___________________________________________________________
Dear Prime Minister Lee, Senior Minister Goh and Mr Wong
I am a U.S. citizen and I live in Hong Kong. I personally saddened by your cancellation of the Snowball Event. I am writing to you as a constant visitor to Singapore. I visit your country every three weeks.
I attended the Nation Party and have to say that it was one of the healthiest and inviting experiences I have ever had in Asia. I had friends fly from San Francisco to join me at this event. Add our hotels, our plane fares, our taxi's, our restaurants, the spending just between eight of us was well worth the outstanding experience Singapore provided. I left delighted with Singapore, I was impressed and continue to brag on Singapore culture and people as one of my favourite places on the planet.
But now you are at a very critical point. The photocopy of your police report and the cry for help from the gay community has now blanketed the world like wildfire. And, they are looking to you and Singapore to see which way you are going to take the country. You have made great headway in creating a very open and inviting society. I believe that your reputation has been established as a country that nurtures diversity and acceptance. If you go this route, you will loose all of this progress.
I urge you to reconsider this action. The damage is both a financial impact as well as a your countries progress.
Kind regards,
Greg Crandall
Hong Kong
---
Dear Sir/Madam
I was most disappointed to hear that the application for a public entertainment licence for Snowball 04 was rejected. I write this letter not as a complaint but as an attempt to constructively convey how such this action is being interpreted by many of my friends and colleagues.
For the last two years, I have been a regular visitor to Singapore; attracted by the diverse culture, open society and vibrant nightlife. I believe that the combined efforts of the tourism authority, government and private business have done a great deal to make your country a prime target for work and holiday. In fact, I have acted very much as a spokesperson for Singapore at times, criticising the outdated views of Singapore from work colleagues and friends, who think it is a small and unexciting place to visit.
Though originally from the UK, I now work in Shanghai for a major pharmaceutical company and was considering relocating to our Singapore office.
Already, this recent news concerning Snowball has caused a flurry of emails from both my straight and gay friends around the world. I am less concerned about the event itself - I was not planning to attend - but am more unsettled by the signal it sends to the outside world from a country trying to dispel its former image of a rigid society inflexible to change.
Furthermore, the reason given in the Police press statement is somewhat disturbing:
"... the Police also recognise that Singapore is still, by and large, a conservative and traditional society. Hence, the Police cannot approve any application for an event which goes against the moral values of a large majority of Singaporeans."
One may recall that most developed countries were discriminating against racial and religious minorities in the last 50 years using the same defence.
I now watch to see if this is an isolated incident or the first of many. In the latter case, I would certainly refrain from visiting Singapore and advise my friends to do likewise.
Please do not hesitate to contact me for any reason. I genuinely support your efforts to make Singapore a more successful country and hope that things are such that I can consider moving there in the near future.
Yours faithfully
Dr Carl Firth
Shanghai, China