People Like Us 3 (PLU3) believes that there are other possible reasons for the increase in HIV infection rates among the Singapore Men Who Have Sex With Men (MSM) population, besides Dr Balaji Sadasivan's explanation.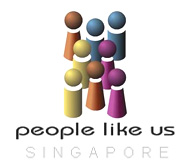 PLU3 is a working group, inspired by PLU (People Like Us) in its attempt to engage the Singapore government in constructive dialogue and seek registration as a society.
In his Budget Speech on 9 March 2005, Dr Balaji Sadasivan, Senior Minister Of State For Health stated:
1. 90 per cent of newly diagnosed patients are males, with 1/3 of them identified as MSM.
2. that according to an epidemiologist, the predominantly gay party in Sentosa, "Nation", allowed gay men from high prevalence societies to fraternise with local gay men, thereby resulting in an increase in infection rates within the local MSM population. However, he clarified that this is a hypothesis, which warrants more research.
In light of the increase in infection of HIV amongst the MSM population, the Ministry of Health should increase and sharpen its efforts on prevention. This includes sponsoring proper scientific and clinical studies on the transmission pathways of these infections; and working closely with NGOs such as Action for AIDS and other MSM stakeholders such as gay groups to stem this rise.
Further, discussions about MSM HIV infection, particularly Governmental statements and the media, should take a more informed approach. Firstly it is critical to make the important epidemiological distinction between the gay community and the public health category of MSM (Men who have Sex with Men) in public health discussions. Not all MSM identify themselves as gay.
To target HIV prevention amongst MSM by reference only to the gay community would lead to other segments of MSM such as married MSM and bisexuals being neglected with adverse public health consequences.
Secondly the single hypothesis given by Dr Balaji Sadasivan as being the cause for the significant rise in MSM HIV infections, will only further entrench homophobic attitudes, remarks and behaviour from the general public towards gay Singaporeans.
It is likely to lead to and strengthen the public misperception that the typical gay individual is promiscuous and practices dangerous and irresponsible sexual behaviour. This is an unfair stereotype of the Singaporean gay community.
Whether or not the epidemiologist is right in his hypothesis, an objective appraisal of the situation should have acknowledged other possible reasons for the increase in MSM HIV infections. PLU3 is disappointed that other plausible causes for the increase in MSM HIV rates were not highlighted in the Minister's speech. These include:
1. increase in number of people taking HIV tests - due to wider media publicity and Action for AIDS' (AfA) successful outreach efforts in reaching out to MSM through its targeted projects.
2. increase in number of MSM which include gay and bisexual men going overseas and being infected due to lowering their guard in practicing safer sex.
3. reduced vigilance from urban MSM globally towards HIV prevention possibly due to recent advances in medical science, which have transformed HIV from a disease resulting in certain death to potentially being a long term chronic though serious illness. The fact that the incidence of higher 2004 MSM infection rates in Singapore may be part of the global trend of increased infection amongst urban MSM could be a strong indication of this possibility even in Singapore.
While AfA has done a remarkable job by depending on the goodwill of its donors and volunteers, the Government needs to recognise that the continued criminalisation of homosexual acts is a major barrier against allocating more public funds and resources towards MSM HIV prevention. The outdated law which has been repealed in Hong Kong and which does not even exist in Indonesia, Thailand and the rest of East Asia also prevents NGOs including gay groups from actively pursuing open outreach programs targeted at MSM.
In view of the publicity, we hope the gay community will take a more proactive approach in coming out and demystifying the negative stereotype of gay men. PLU3 also strongly encourages MSM to start and continue to practice and encourage safer sex amongst their peers and other MSM.
While the Ministry of Health plans to legalise compulsory tracking, encourage abstinence before marriage and monogamous coupling, it is essential to recognise that safer sex education which include counseling and encouragement to reduce the numbers of sexual partners and the use of prophylactics also form the non- negotiable fundamentals of a pragmatic approach towards HIV prevention.
There is a need for more education in HIV prevention, treatment and stigma reduction against HIV positive individuals. The HIV issue is a public health issue and should not be made into a moral debate which detracts from an open, scientific and rational approach to prevention. The gay community and other MSM cannot be left out or be discriminated against in this effort.
Currently the criminalisation of homosexual acts prevents a widespread MSM participation in the effort to stem HIV. Without this participation, HIV prevention strategies amongst MSM including the gay community run the risk of being ineffective or even damaging.
About PLU3
PLU3 is a working group, inspired by PLU (People Like Us) in its attempt to engage the Singapore government in constructive dialogue and seek registration as a society. It is a sexual minority rights group representing the interests of GLBT community in Singapore. We believe that everyone in Singapore should have a full and equal place in our society regardless of sexual orientation or gender identity. To this end, PLU3will work for more informed understanding, the removal of barriers and a fuller integration of sexual minorities with the larger community. PLU failed twice in seeking registration as a society. We hope that PLU3 will be successful in this endeavour and that there will be no need for a PLU4 or 5 in a Singapore that promises to be more open and inclusive.