Please click here for refund info.

The Frontier Touring Company, and Live Limited promoter of Kylie's upcoming Showgirl Tour today confirmed that Kylie's Asian tour has been postponed due to health reasons. She is expected to cancel her headlining June 26 stint at Glastonbury, one of Europe's biggest music festivals.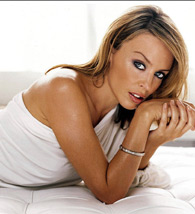 Kylie Minogue's breast cancer has made the headlines across her native Australia.
The 37-year-old, one of the biggest names in the history of Australian show business, was diagnosed in Melbourne on Tuesday morning, the eve of a sell-out national 20-concert tour. Reportedly a diligent breast self-screener, she is said to be seeking treatment for the cancer, which is reported to be in its early stages.
The star is now with her boyfriend French actor Olivier Martinez, parents and brother in Melbourne while sister popstar Dannii is believed to be returning from London shortly.
Rocker Melissa Etheridge is currently recovering from a public battle with breast cancer, and pop singer Anastacia has been fighting the disease since 2003. Years before being diagnosed herself, Minogue worked to raise awareness of prostate cancer, which her father has been treated for.
The following statement was issued by Kylie's management:
Whilst at home in Melbourne with her family this week prior to her Australian Showgirl Tour, Kylie was diagnosed with early breast cancer. She will undergo immediate treatment and consequently her tour will not be able to proceed as planned.
Kylie said today "I was so looking forward to bringing the Showgirl tour to Australian and Asian audiences, and am sorry to have to disappoint my fans. Nevertheless hopefully all will work out fine and I'll be back with you all again soon."
Kylie's Showgirl Tour was scheduled to tour Sydney, Melbourne, Brisbane, Adelaide, Perth, Singapore, Bangkok and Hong Kong over the next month.
Please click here for refund info.