It's a weeknight, but the club is packed with a thousand eager women - one arm wrapped around the girlfriend, the other hand holding a drink - all impatient to lay their eyes on the kings for the night.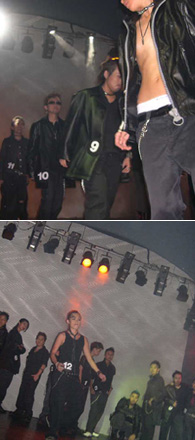 Snapshots of the Butch Hunt preview party held on June 9, 2005.
The queue for the Butch Hunt preview party held on June 9 snaked down three flights of stairs, hits the ground floor, and continues down the street. It is Clarke Quay, where a generous string of pubs and clubs run alongside the Singapore River.

Most of these cater to straight crowds, but on this night, Gotham Penthouse is most unapologetically lesbian.

Lights flash and smoke hisses from the sides of the wide stage. After hours of anticipation, the 12 contestants of Butch Hunt 2005 finally emerge, blazing on stage in all their glory.

They strut in leather pants and jackets, spiked hair and tattooed faces, part of the punk theme for this segment. One is cheeky, another full of attitude, while one boldly bares her chest for the crowd from under her unzipped jacket, nipple taped and all. The girls offstage go wild.

And for good reason indeed. They might not catch another sight like this even if they made a Butch Hunt-seeking pilgrimage across Asia.

In an amazing contradiction, Singapore, known for its confounding stance towards anything and anybody gay and proud of it, is also the birthplace of one of the most unique events in Asia's lesbian scene - the Butch Hunt.

Drawing the womyn
Conceived as something of a talent competition, Butch Hunt is a platform for butch lesbians - a group that sometimes takes much homophobic flak by virtue of its visibility - to strut their stuff and stand tall, says its organiser, Herstory.

This year's Butch Hunt is the third to be held since the event first burst onto the scene five years ago, when a massive number of 1,600 women crowded Zouk with queues that stretched into the carpark outside the club and called for loudhailers just to keep the queues under control.

Since then, the crowds have far from dwindled. Butch Hunt's preview and finals nights, held about a month apart, still draw the women like moths to a flame. Even after the hour-long Preview show ended at Gotham Penthouse just last month, the ladies were still queueing.

Holding Butch Hunt serves up a biennial thrill for lesbians in Singapore, but that barely scratches the surface as to why the competition exists.

Says Cary, organiser of Herstory parties: "Butch Hunt was started to create awareness of our community, to establish acceptance for us.

"Butch Hunt showcases what Butches are capable of. It is for them to show that they are talented. They are not 'gremlins' like they are sometimes called."

The competition serves a dual purpose - first, to entertain its lesbian audience; second, to serve as a confidence-building process for contestants.

The results seem encouraging enough. Contestants so far have seen taking part as being a largely positive experience.

Strutting their stuff
Being in the competition has a powerful effect on building self-confidence, even for those who had prior experience performing, such as Mervix, the youngest contestant in this year's competition.

"You usually feel nervous before every stage show. But for this, weirdly, I wasn't nervous at all! I actually felt like, hey this is the right thing to do, let's just do it."

"In my previous performances, I was not out yet. Now, I don't really feel pressured even though I'm contestant number 1, and I stand in front, and everybody says, 'You'd better not forget your dance steps!' because they're counting on me to remember them. I think I feel comfortable being in the company of the lesbian community."

Drake, Champion of Butch Hunt 2003, also testifies to that powerful boost the competition gives.

"Before you walk out on stage for the first time, you think, What if I walk out and they're dead quiet? But when you walk out, it's all cheers and applause. You can't really hear what they're cheering for, but at that moment you feel you are worth a little more than what you thought you were."
---
Getting ready for competition night
But for a contestant, getting to that point where you can walk out on stage does not come easy.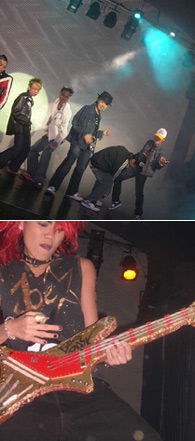 Snapshots of the Butch Hunt preview party held on June 9, 2005.
For a few months, contestants throw themselves into making sure they put on the best show they can, come performance night.

Gerald, second runner-up for the first Butch Hunt in 2001, remembers a night just before the contest when a group of five contestants were practicing their dance steps at the void deck of one of their homes.

"Somebody yelled downstairs, shut up!" she recalls with amusement.

"A while later, a police car came. We were playing the music so softly! The police were like, what are you doing here? Were you playing the music very loud? No, we said, and they told us to keep the volume down and to go home early."

"We were so frustrated we turned down the volume on the mini compo and used numbers to do the choreography. But luckily it all turned out okay."

Being famous costs, sometimes
Still, taking part in what ranks among the most high-profile events Singapore's lesbian community has ever seen, does come at a price sometimes.

Contestants have experienced invasions of privacy, such as a time when photos of contestants reserved for Herstory's use circulated over e-mail following the first Butch Hunt.

Gerald was quite upset about it at that time. "Over e-mail, you can't trace the source, and there's no way you can fight back. It crosses the line."

Drake had an experience where someone pieced together a photo montage of her without her consent, placed a copyright stamp on it, then circulated it online.

And then she faced the problem of plain idle gossip within the community.

"You're in a relationship with this person. If you have some problems, you might prefer to keep them to yourself. But suddenly everybody knows what's going on between the both of you, and when people start talking, they tend to talk about the dirt instead of the good. Joining the contest just didn't help."

Being who you want to be
Despite facing a slew of challenges in the past years, which included hunting down a suitable club willing to play host, obtaining sufficient manpower to run the whole show, and pacifying authorities when they demanded to see identification and a performing licence, Herstory has one-upped itself this year by adding new features to the contest.

This includes a one-minute reality-TV clip, for each contestant to say what she wants.

"Let the audience experience a different side of butch hunt, to see what contestants are like behind the stage. I want to show them the real people behind the whole show," says Cary.

Indeed, a lot of work goes into making the show happen. Adzmye, the competition's drag queen host for three years running, can guess at how contestants feel, having taken part in drag queen contests himself. It can be nerve wrecking, he says.

Where does he find the guts to do it all then?

"To me, it's not a matter of guts. It's about how much confidence I have in myself and how far I can go. That's something the butches in the lesbian community and I have in common."

"We do it to prove something to ourselves. Being not who you are born, but who you want to be - that takes a lot of work."

The Herstory Butch Hunt Finals will be held at GOTHAM Penthouse, 3A River Valley Road, Clarke Quay Blk 3A, #03-01 on Thursday, 14 July.