More than one in four local MSM (men who have sex with men) in Bangkok could be infected with HIV, say researchers who polled 400 men at different venues including bars, saunas and parks this year.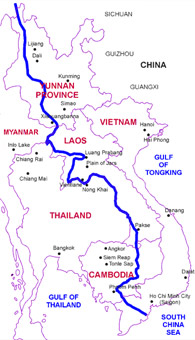 Defined by the Mekong River, the Greater Mekong Region includes the countries of Cambodia, Laos, Myanmar, Thailand, Vietnam and Yunnan province of the People's Republic of China.
The study was carried out by the Thailand Ministry of Public Health (MOPH) in collaboration with the US Centres for Disease Control and Prevention (CDC), the Thai Red Cross Society and the Rainbow Sky Association of Thailand, a gay rights and social group.
Conducted between June 13 and July 16, the study revealed a 28.3 per cent prevalence rate compared to 17.3 per cent in 2003. Foreigners were not included in the study.
The results were presented at the HIV Prevention and Care Interventions for MSM in the Greater Mekong Region - Regional Consultative Forum in Bangkok held on August 15 and 16.
In 2003, researchers enrolled 1121 Thai MSM who were 18 years or older, residents of Bangkok, and reported anal or oral sex with a man during the past six months. They were sampled at various venues throughout the day. Venues that were frequented by large numbers of foreign MSM were excluded. Participants received a written copy of the informed consent script and counselled before completing a Palm-based interviewer-administered questionnaire about demographics and sexual and drug use behaviours.
An oral fluid specimen was then collected for HIV testing and they were given an identification card for getting their HIV test results and post-test counseling. While interviews and oral specimens were linked through a bar code, data collection was otherwise anonymous.
"This is a very high, alarming and rapid increase. Statistically we can say that between one in four and one in three Thai MSM attending venues in Bangkok is infected with HIV," said lead researcher Dr Frits van Griensven at the meeting.
The study also investigated smaller samples of street-based (182) and venue-based (168) male sex workers in Bangkok, which had HIV infection rates of 23 per cent and 15 per cent, respectively.
Attributing the high numbers to "unprotected sexual intercourse, that is, sex without a condom," Dr van Griensven said that the "study shows that the risk for HIV infection among these men is high and has increased over the past two years."
"We need to analyse our data further to understand what factors are associated with these behaviours. In the mean time, we need to promote partner reduction, including abstinence, consistent condom use and voluntary HIV testing and counselling for this population in order to reduce or eliminate unsafe sexual behaviour."
When asked during the meeting how the HIV infection rates compare to those found among MSM in other parts of the world, Dr van Griensven said that the "HIV infection rates are similar as to those found among MSM in urban areas in the Western world, such as San Francisco, New York or Amsterdam" but pointed out that the "difference may be that in Bangkok, MSM get infected at younger ages (among 16-21 year olds the HIV prevalence was already 23%) and that the rates seem to have risen only fairly recently."
Since the first study in 2003, the MOPH has been working with its partners to expand HIV testing services for MSM, implement peer-driven interventions and to improve the social situation of MSM and establish a research infrastructure to investigate the HIV epidemic among Thai MSM and evaluate interventions to stem new infections.