Nation.V, the most anticipated gay party in Asia, finally kicks off on the Nov 4, 2005. Unlike previous Nation events, this year it is set in the picturesque Phuket, Thailand, in Crowne Plaza that houses some 800 gays (and fag hags, of course) and lesbians. The Welcome Reception, featuring DJ Fred Jungo, takes place in the hotel pool, attracting hundreds of party queens to splash and to be splashed.
---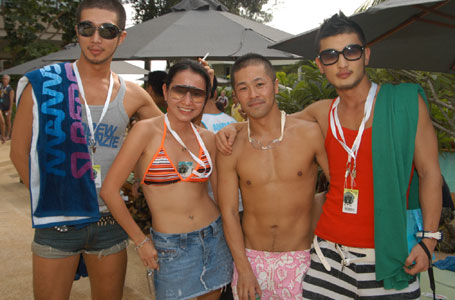 This is an international bunch of SPG (sarong party girls). From left to right are Dan from Korea, Frances from Hong Kong, Frances' friend from Japan and Paul also from Korea. Paul and Dan are both Nation virgins. They do not come unprepared, as seen from their immaculate outfits and all-encompassing sunglasses (crucial to make their checking out guys unnoticeable). When asked about her Japanese friend's name, Frances just says she is too excited to remember.
---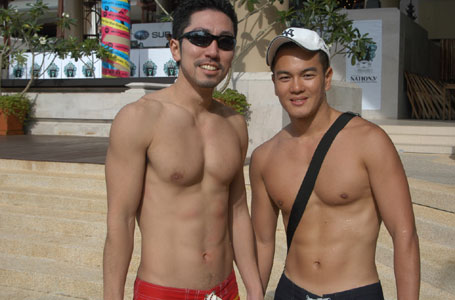 How can such cuties slip out of the photographer's eyes? Shinji (right) is a Japanese who's working in Singapore. Teru, who at first is too shy to give his name, is from Tokyo. This is one of the most attractive things about Nation parties - there are cute boys everywhere, making queens from all over Asia pay pilgrimage to this shrine of hot men. Shinji and Teru have showed us the best example of pool party dress code, i.e. topless.
---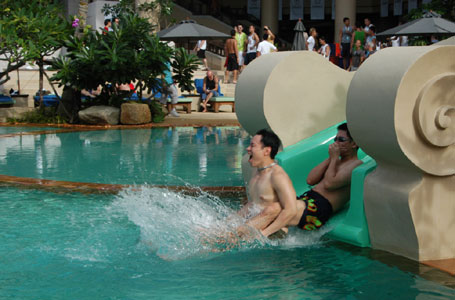 There is at least one thing that has made this year's Nation different from the past - there is a water slide. Perhaps because queens are shy to dance under sunlight, many choose to stand by the side and shake. Challenging this 4-metre slide proves to be very popular among the partygoers. It's great fun, and it's good for building an intimate relationship. One sitting in front of the other, between the thighs. How more romantic can it get?
Watch this space for more party reports!