Held less than two month after Nation.V, Snowball has been the most talked about party in the gay Asian community. With advance ticket sales at an unprecedented high, along with news that advance tickets for the Follow Me party on 25 Dec had been snapped up in a matter of hours, it has had the entire Taipei community buzzing for weeks.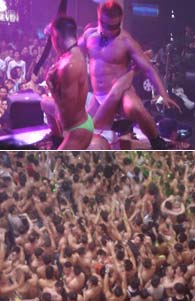 An estimated five thousand partygoers attended Snowball, Fridae's first ever event in Taipei.
Taiwan's leading gay portal, Club1069 was Fridae's media partner for Snowball. Ben Chai, CEO of Club1069 said before the party, "Advance ticket sales are four to five times anything we've sold online, a good sign that this Snowball will be huge."
Held at the superclub Ministry of Sound in Taipei on Dec. 23, queues of partygoers eager to enter the club snaked around the building and stretched for blocks at one point in spite of dropping temperatures.
"We bought our tickets two weeks ago, why should we have to wait with those who haven't!" complained Damian, from Taipei. The queue was however cleared quickly once the protocol was amended as security personnel worked hard to move all the patient partygoers indoors as quickly as possible.
Inside, temperatures rose immediately, and everyone was rewarded with a sea of heaving bodies and thousands from Asia's party community. Many just fresh from Fridae's Nation.V, held in November in Phuket, it was a meeting of familiar faces and new.
"This feels just like a family, a Fridae family! People are here from all over Asia - there is nothing that comes close to it," enthused Josh from Kuala Lumpur.
American DJ Kimberly S, played a 5-hour set that literally lit up the entire room. Showing her versatility and virtuosity at the turntables, she took everyone on a journey that included flame throwers and a few very sexy Taiwanese gogo dancers.
Snowball's success comes amidst rumors sparked by local tabloids of a financial crisis that could precipitate it's closure. Ejay Lu, General Manager of MoS dismissed this as hearsay and said: "Snowball is one of the best nights we have ever had at MoS. We would love to work with Fridae again next year, and hopefully even sooner."
Snowball'5 opens what is a marathon party weekend in Taipei this Christmas. Follow Me @ AXD where DJs Tiger, Stone and Eric Huang will titillate partygoers. Limited tickets are available at the door, but are expected to be snapped up quickly. Finishing up the Christmas gaiety will be Victor Cheng, Vertigo, Eric Chang and David S. at Luxy on Sunday. The G5 Xmas Sunrise party begins at 6am and goes till noon. The DJs playing at the latter two parties were last heard at Nation.V.
Fridae would like to thank Kimberly S and our partners and supporters, Motorola, Holiday Inn Asiaworld, Ministry of Sound Taipei, Moet and Chandon, Johnnie Walker, Club1069, Follow Me and G5 for making Snowball'5 a success.
Watch this space for photos at SnowBall.