For many years, in the 1990s, one of the first things Singaporeans like me would do on the first day of a holiday in Bangkok or any other city would be to keep an eye out for a free gay map, often available at bars, saunas or massage studios. Not only were they useful for finding our way around a large city, they refreshed our memories as to where the gay venues were located, and alerted us to new ones that have sprung up since our last visit.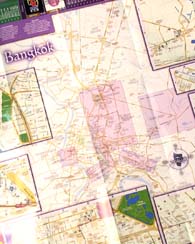 Gay maps are handy if you're looking for the gay scene.
Then the Internet came along and online listings of gay venues sprang up, such as Fridae has. Utopia-Asia was a pioneer for this region and is still one of the most comprehensive around. There were clear advantages, in that it was easy for the online publishers to keep listings up to date, unlike printed paper. More importantly, it enabled the net-savvy traveller to do research in advance from the comfort of his home, drawing up a list of places to check out from Day 1 to Day 10.
But in practice, as Lawrence Chia explained from his own experience, things were messier than the theory. "I ended up printing out a whole stack of A4 paper, and while walking down the road in Bangkok, I was flipping through the loose sheets."
"And," to find his way around, "I still had to carry a map with me."
"Eventually, I had to look for a cafe in order to sit down and organise all these pieces of paper."
Filling a need
While in the case of Bangkok, one could give up on the unwieldy Internet print-outs and revert to relying on the free maps, in other cities like Singapore, there were no gay maps at all. Believing there was a niche to be filled, Lawrence launched his pluguide (PLU stands for People Like Us, incidentally also the name of the Singapore gay group, taken to mean gay or lesbian) in April 2004, with a gay map for his home city, Singapore.
Sean Soh, the Operations Director, recalled, "It took a lot of work getting advertisers at the start, and our first issue was quite small, with only 18 panels. But we got very good feedback, and nowadays, a typical issue has 28 to 32 panels."
Before long, they launched a Malaysian edition followed by a Bangkok map, this even as
Max Magazine
and
Gayguide Bangkok
were already well-established in the Thai city. Pluguide Bangkok is entirely in English unlike the local publications which are bilingual, and Lawrence feels this may prove more tourist-friendly.
Even so, he reckons that "tourists take up only 20 - 30 per cent of the maps we distribute. The rest are snapped up by locals."
"They want to be kept up to the date on the various gay places, or enjoy the discounts from the coupons inside."
"We also have activity listings for each city," Sean added.
At the same time, regional gay tourism is on the increase, and this may explain why locals are just as keen, if not more so, on pluguide maps for neighbouring Asian cities. Pluguide cross-distributes its various maps in its various print cities, meaning for example, that one can find the Singapore, Bangkok and Phuket maps in Malaysia. KLIQ events would be one such place where pluguide maps are available.
---
In Singapore, the Bangkok map is the most popular. "Bangkok is the most important gay market in Asia," Lawrence explains.
"We've found that Bangkok is a kind of hub for our distribution and product recognition," said Sean. A lot of maps for other cities are picked up from there.
Charles Poole, the owner of Tantric Bar and Backstage in Singapore is particularly pleased that the pluguide maps are available in other cities. "You'd be surprised how many people in my bars had not looked us up on the Internet before they came in."
"Perhaps they are older guys," he added, among his usually diverse patrons. The younger ones tend to be more familiar with surfing the Internet.
Pluguide recently did a test distribution in Hong Kong in preparation for their inaugural Hong Kong edition which is coming out soon.
Lawrence: "We threw in nearly 2,000 copies of other city maps in a few places, such as saunas, karaoke bars and discos, and they were all grabbed within a few days. The venues rang us and asked if we had more to give them."
Print media in the age of the Internet
What this proves is that even in the age of the Internet, the demand for print media is still very much there. A map is unbeatably handy.
"Both have their own advantages," said Lawrence. "On web portals, one can find friends and contacts in other cities, there are classified ads, and one can even book online."
So what is happening is that the savvy gay traveller uses a combination of both to optimise his vacation.
Pluguide does not have a web portal. They do however have a corporate website (www.pluguide.com), that may be particularly useful to those outside their print cities.
"We have a few thousand people who regularly request through our website for copies of the pluguides to be mailed to them," said Lawrence. Japan is the largest source of these requests.
Since the maps are free, they only charge for postage.
Bubble or badge?
Detractors may say these maps and their panel advertisements sometimes create a bubble-like world, filled with sensuality and indulgence. With eyes focussed on the markings on a map, and minds determined to find our way there, we taxi or walk past some of the most colourful streets and neighbourhoods of Asian cities, without taking them in. The entire holiday becomes a circuit of touching all the bases we have marked out for ourselves.
But then again, what is a vacation but an escape? Who has any right to say what is a right kind of vacation, and what isn't? So long as the traveller is happy and gets to experience the places that interest him, what is it to anybody else?
Yet the ugliness of the real world sometimes intrudes. Pluguide was planning a Bali map, but when the bombs went off last October, the plans had to be put on hold.
One way to look at it then is that if a city has a gay map, it is a kind of endorsement: that it is of interest to the gay tourist, but also that it is safe, welcoming and worth a holiday. Cities should be proud they have a gay map.
Alex Au has been a gay activist for over 10 years and is the co-founder of People Like Us. Readers who have experience with applying for Dependent's Passes for their same-sex spouse to live together in Singapore could write to him so that that gay activists in Singapore can have some facts to go on. He can be contacted at yawning@geocities.com.