Brokeback Mountain was named best film and bagged three other awards at the 63rd Annual Golden Globe Awards held in Beverly Hills on Monday.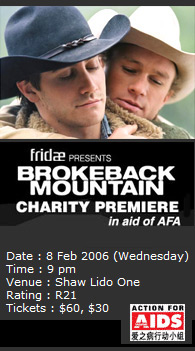 Taiwanese director Ang Lee's
Brokeback Mountain
picked up four trophies at 63rd Annual Golden Globe Awards for Best Picture (Drama), Best Screenplay (Larry McMurtry and Diana Ossana), Best Original Song ("A Love That Will Never Grow Old") and Best Director for Lee on Monday night.
Based on a Pulitzer Prize-winning short story by Annie Proulx,
Brokeback Mountain
spans over 20 years as a rodeo rider (Jake Gyllenhaal) and a ranch hand (Heath Ledger) meet and fall in love while sheepherding on a mountain of the film's namesake in Wyoming in the summer of 1963.
According to the
Hollywood Reporter
web site, director Gus Van Sant (
Elephant
) and producer Scott Rudin (
The Hours
) tried to make
Brokeback Mountain
at Columbia Pictures but were unable to get any actors "to commit," said McMurtry who co-wrote the script.
"They'd say it was the best thing they'd ever read, and then they'd waver and anguish. Their agents were afraid and steered them away from it," McMurtry added.
New York veteran indie producers James Schamus and David Linde eventually took over the project in 2002 with the backing of Focus Features, the specialty films unit of Universal Pictures. Lee decided to go forward with the film in 2004 with actors Jake Gyllenhaal and Heath Ledger.
"Actors want to have juicy parts," says Lee. "Heath is the brooding, macho, shy man whose temper holds a lot of fear. There is a lot of self-denial, guilt and twisted psychology in that character, a bit like the Hulk. Heath carries the elegiac mood, that sense of loss you read in cowboy poetry. Jake is a good counterpart. He is the more brave one who comes to accept the romance."
Originally from Taiwan, Lee was first noticed in 1993 with his breakthrough movie
The Wedding Banquet
, a touching story about a Chinese gay man coming out to his family, broke box-office records in his native country. In 1995, Lee directed Emma Thompson's script of Jane Austen's romantic comedy of manners,
Sense and Sensibility
, which earned seven Oscar nominations and won for best screenplay. His Chinese action adventure
Crouching Tiger
grossed more than US$213 million worldwide, scored 10 Oscar nominations, including best picture, and won the best foreign-language Oscar in 2000.
"People say I bend or twist genres," Lee says. "I think I'm twisted. It's a tricky thing for foreigners. You're not molded to cultural convention. You can do it as authentic as you want. That's the advantage of the outsider."
In benefit of Action for AIDS (AfA), Shaw and Fridae will present
Brokeback Mountain
on Feb 8, 2005. Proceeds benefit Action for AIDS, a non-governmental organization, and goes towards funding its education and MSM Counseling program (within AfA) and its Medical Subsidies Fund. AfA provides SGD$60,000 a year to help patients access anti-retroviral therapy.
Brokeback Mountain Charity Premiere
in benefit of Action for AIDS Singapore
Date: 8 Feb 2006 (Wednesday)
Time: 9 pm
Venue: Shaw Lido One
Rating: R21
Tickets: $60, $30
Book your tickets and/or donate to Action for AIDS by clicking the link below.