The outline of the story has been sketched by Fridae on January 17, click here to read. The Singapore government, through the National Volunteer and Philanthropy Centre (NVPC), has awarded a S$100,000 (US$61,500) grant to Liberty League Pte Ltd, a commercial business with a paid-up capital of S$10 (US$6).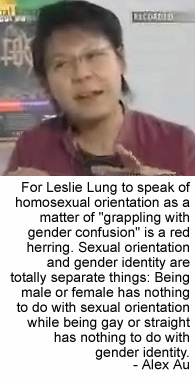 Liberty League's plans are to conduct sexuality talks in schools.
In a media statement released on Thursday, People Like Us, Singapore's LGBT advocacy group, pointed out that Leslie Lung, the majority owner of Liberty League, "has long been known to be associated with 'ex-gay' ministries."
The statement added, "The 'ex-gay' or 'reparative therapy' movement is strongly associated with the more extreme churches in the United States."
This very obvious religious undercurrent to Lung's message is something that immediately jumps at you if you were to do a simple Google search.
The question that needs to be asked is: What kind of background check did the NVPC do before making that decision? NVPC's own eligibility criteria include an unequivocal statement that programs must be secular and non-profit.
But even before that, the question that made a number of people, gay and straight, sit up was: Is sex education the kind of philanthropic cause that deserves so much money?
If that was not troubling enough, here's another fact: NVPC's own rules are that the maximum grant they can give to any program is S$100,000. Most welfare projects get less than that. Liberty League got the maximum amount possible.
How did NVPC make such a decision?
Unless the government admits that the NVPC was deficient in its diligence and skewed in its assessment of need, in which case heads should roll, any thinking observer would wonder how such a grant decision could have been made if NVPC knew the true nature of Liberty League?
One possibility is that many bureaucrats in Singapore are unthinkingly sympathetic to fundamentalist Christian outfits.
Many have argued that the very fact that Choices, a Christian group that promotes ex-gay mumbo-jumbo, is allowed to do so many sexuality talks in state schools, shows the true leanings of these bureaucrats.
One non-Christian teacher expressed her discomfort to the writer some years ago. She recalled that the Choices speaker had advised that if any student was "confused" about his sexuality, that student should be sent to the group for more personal help. But she asked, "How can I send a child from a Muslim family to a Christian group?"
It is mind-boggling that the entire Ministry of Education has not thought about such potentially explosive situations before they endorsed and hired Choices to do what they do. And it's been going on for years!
Do they take it as obvious that everyone should accept Christianity?
On a separate note, here's another tidbit of information: Sometime last year, a gay-affirmative group, which would not be wise to name publicly at this point, was invited by NVPC to present a proposal. In the course of the discussions, NVPC basically wanted them to tone down all gay-affirmative language and proposals. The group decided to walk away from the potential grant because meeting such a request would completely gut its mission.
What this tidbit tells us is that the NVPC didn't decide on Liberty League by default because no other group was available. The NVPC had a hand in shaping the message.
---
Meanwhile on television
Other people are wondering if Mediacorp, the government-owned broadcaster that runs all our TV stations, might also be engaged in Liberty League boosterism. For the second time within a week, Leslie Lung has been featured on television.
In the second of two appearances, he was on a panel show supposedly on the subject of intersexed children. These are kids who are born with ambiguous genitalia, who aren't obvious whether they are male or female. Dr Sadhana Nadarajah of KK Women's and Children's Hospital, made it very clear that intersexuality is a medical condition that can be surgically corrected. The hard part is to know whether to correct the genitalia towards male or female, for that depends on being able to figure out whether the child feels male or female psychologically. Usually, by puberty, such a decision can be made.
Lung, on the other hand, kept referring to sexuality, with the implied meaning of homosexuality and transsexuality, and how children, even adults, shouldn't make up their minds. To the cognoscenti, this is code for his message, "Stop thinking you are lesbian or gay!"
Making up one's mind that one is straight, is however, needless to say, quite permissible.
Dr Sadhana had to repeat herself that these are quite separate issues: intersexuality is a medical problem while "being gay or lesbian is a psychological problem."
Unfortunately she used the word "problem" which is not correct.
But what this program showed was how Lung constantly muddies the waters, paying scant regard to professional accuracy.
Another example of deliberately sowing confusion can be seen in what he said during his first appearance when he spoke about Liberty League's S$100,000 grant.
He said his work includes "focus groups for gays, lesbians and transsexuals who are grappling with their gender identities."
This kind of phrasing plants in people's minds that being gay or lesbian is a gender identity problem. It is not. It is not a problem and sexual orientation has nothing to do with gender identity. Gender identity, as defined in psychology, is one's own perception or sense of being male or female. It is not to be confused with sexual orientation. Gays and lesbians may be different from heterosexuals in terms of sexual orientation, but they are as sure as heterosexuals whether they're male or female. Here again, Lung was using terms contrary to professional accuracy.
Slick words, but to what end?
Yet another example of how language is deployed was how he spoke of promoting "gender and sexual health." This even as a study by Shidlo and Schroeder, published in 2002, has shown that conversion pseudo-therapies often cause long-term psychological distress.
He was also quite glib in saying "Being gay and lesbian is part of it; coming out of it is part of it as well."
It sounded like "coming out," but he actually said "coming out of it," meaning that denying one's true sexual orientation should be a valid strategy too.
One has to concede that the ex-gay movement is very slick in their use of language. They speak of "freedom" and "human rights" when what they mean is that gay and lesbian groups, health professionals and the state should not interfere with their misguided attempts to convert people. People like them should have the freedom and the human right to sell voodoo cures.
But besides standing in awe of their creative use of language, any sensible person would also ask, why do they resort to this?
Why do they have to sell their message by making it appear like their opponents' message? Why do they have to use the language of the secular pro-diversity crowd to sell their religiously conformist message? Why can't they speak plainly of what they offer?
With that, we are reminded of the old adage: Imitation is the sincerest form of flattery.
Their product, if revealed too clearly for what it is, cannot sell. It is repulsive. It has to be dressed up; it has to mimic what people really desire: freedom, rights, tolerance and acceptance.
But if that is the case, then, is not the very act of dissimulation and all this subterfuge self-incriminating? Does not that show utter moral bankruptcy?
Alex Au has been a gay activist for over 10 years and is the co-founder of People Like Us. Readers who have experience with applying for Dependent's Passes for their same-sex spouse to live together in Singapore could write to him so that that gay activists in Singapore can have some facts to go on. He can be contacted at yawning@geocities.com.