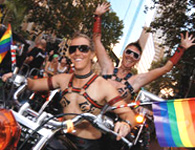 Identity globalisation. It is relatively easy to trace the spread of identity politics and LGBT activism. The pride parades have been copied around Asia - including Manila, Tokyo, Bangkok, Pattaya, Phuket, Taipei, Seoul, Kolkata.
There are, broadly speaking, two schools of thought in the West.
The "identity" school.
Most people and most media talk in terms of categories: homosexuals, heterosexuals, bisexuals. We are always using LGBT, as shorthand for a cluster of separate identities. The shorthand can go as far as LGBTTIQQ (lesbian, gay, bisexual, transgender, two-spirited, intersexual, queer and questioning).
"Identities" and "identity politics" are the lifeblood of activist organisations - and of lawyers, who argue we should have equality with heterosexuals - and of magazines and all the businesses that target gay or lesbian markets.
The "sexuality" school.
Sexual variation is the norm, as Kinsey argued in the 1940s with his seven-point scale.
Foucault said it was Western homophobia (bad) that produced the strong gay and lesbian identities in the West (also bad). He shunned 'identity' politics. He never joined any activist organisations.
Margaret Mead, a distinguished anthropologist who was named "Mother of the World" in 1969 by
Time
magazine, told generations of university students in the West that sex was quite different in Samoa than it was at home. Don't make simplistic assumptions about sexual patterns. Life is really queer if you look at it cross-culturally.
Feminism taught that gender was 'socially constructed.' The ideas of how we are supposed to behave as men or as women (both in and out of bed) are produced by culture, not genetics. We perform gender, following a script created by the troubled, neurotic society into which we are born. The focus on set identities is unscientific 'essentialism.'
Sexuality thinking is associated with academics, not activists. In the West there is little overlap between the two groups.
Western "sexuality" thinking is fairly new. It emerges a few decades after the beginnings of the activist organisations.
The 1960s saw the spread of 'identity' courses at American universities - African American Studies, Native American Studies, Ethnic Studies - and even, later and rarely, Gay and Lesbian Studies.
It was women's studies that gained legitimacy in the west, and courses or programs spread to virtually every college or university. Women's studies evolved into 'gender' studies and into 'gender and sexuality.' Queer studies found a (sort-of) legitimate home in programs on women /gender /sexuality and in cultural studies.
Identity globalisation.
It is relatively easy to trace the spread of identity politics and LGBT activism. The pride parades have been copied around Asia - including Manila, Tokyo, Bangkok, Pattaya, Phuket, Taipei, Seoul, Kolkata.
Gay and lesbian activist organisations have developed in Asia, with the longevity prize going to Gaya Nusantara in Java, founded in 1981. The lineage takes us through to Fridae.com, with its motto of "Empowering Gay Asia" and the gay Nation parties.
How does 'identity' politics spread?
It is not done directly by western LGBT organisations. They don't fund foreign missionaries. The International Lesbian and Gay Association (ILGA) and International Gay and Lesbian Human Rights Commission (IGLHRC), both established western-based international groups, have had very little direct impact in Asia.
The Netherlands regularly gives funding for Asian activists to go to ILGA world conferences, but ILGA remains quite western. ARC-International, new on the international scene, does lobbying at the United Nations (UN). To be credible in Geneva and New York it brings activists to UN meetings from around the world. It held its first meeting in Asia in November, 2005.
AIDS organising has given some support to identity organising in Asia. AP-Rainbow is an email list, now with an executive but no offices and no on-line magazine. It brings together LGBT activists embedded in AIDS organisations in the region.
Identity politics seems to be spread from the West to Asia largely through the role of Asians who visit, study or work in the West. They experience the more open atmosphere of contemporary life in the United States, Canada, Europe, Australia and New Zealand, and work for something similar when they come back home.
Sexuality globalisation.
How does 'sexuality' thinking spread? This is the real question behind this column.
The first answer is that 'sexuality' politics has not spread to Asia. To the extent there is a public discourse it is (a) about transgendered individuals -
baklas in the Philippines, warias in Indonesia, kathoeys in Thailand, hijras in India, metis in Nepal
- who remain the public face of sexual variation in Asia, or (b) about religion - seeking space within Islam, Catholicism, Protestantism or Confucianism for homosexuals, or (c) asserting visibility for gays and lesbians as legitimate modern minorities within Asian societies (as in IndigNation in Singapore or the campaign for criminal law reform in India).
But I discovered 'sexuality' language being used by Indian activists a couple of years ago, to my surprise. And activist organisations formed the National Campaign for Sexuality Rights. Where did this new language come from? How was western academic 'sexuality' thinking moving to Asia?
---
(1) A new generation of Asian students go west.
Asians used to go to the West to study medicine or engineering. Now rich Asians go to the West to study anything. Queer programs are now widely available. Over the last fifteen years some of them study under Carol Vance in New York, or Martin Manalansan in Illinois, or Saskia Wieringa in the Netherlands or Walter Williams in California. The US Social Sciences Research Council gave special funding for graduate work in sexuality, money that sometimes went to Asians.
(2) Women from NGOs in Asia have found a UN circuit.
I keep meeting Asian lesbians who were at the Fourth World Conference on Women in Beijing in 1995. The parallel NGO conference had a 'lesbian tent' and a bunch of queer events.
Asian women who were at Beijing, or Beijing+5 or Beijing +10, or at the regular sessions of CEDAW, the UN Committee on the Elimination of Discrimination Against Women, meet Western feminists, and often Western lesbian feminists.
The World Health Organization decided it should have a definition of "sexuality" reflecting the new developments. They did one draft. Then another. Their struggles are recorded on their website. International organisations still have problems with the new language.
(3) Western foundations have embraced 'sexuality.'
The two big western foundations, Ford and Rockerfeller, had programs on family planning, then on women, next on gender and now on sexuality and sexual health. US AID funds Family Health International, which supports programs on sexuality.
Ford has funded the South and Southeast Asia Resource Centre on Sexuality, based in Delhi. Fridae's own Professor Sanders was part of the faculty for the regional training programs in Delhi in 2004 and Surabaya in 2005. The Southeast Asian Consortium on Gender, Sexuality and Sexual Health has held their own series of courses drawing students and faculty from the region.

From the top: Dede Oetomo, founded gay rights group Gaya Nusantara (in Java) in 1981, Fridae's Professor Douglas Sanders - both pictured at the Asia-Pacific Queer in Bangkok in 2004 and Taipei's Josephine Ho.
(4) Asia-Pacific Queer.
Some of the best writings on queer Asia are currently coming out in English from Australia - Peter Jackson on Thailand, Fran Martin on Taiwan, Mark McLelland on Japan. Dede Oetomo of Indonesia observed that for an Asian to learn about Thailand, the best route is to read Peter Jackson in English.
This clutch of Australians have formed Asia-Pacific Queer, which, after some conferences in Australia, mounted the big Bangkok conference in July, 2005, billed as the first International Conference on Queer Studies in Asia. It brought together activists and lawyers (so some 'identity' politics) as well as a bunch of social scientists (lots of 'sexuality' talk). Ford Foundation provided some scholarships for Asians to participate.
(5) The Asia-Europe meeting in Singapore.
Sexuality has become legitimate enough that the Asia-Europe seminar in Singapore in 2005 could take on the theme of sexuality and feature a mixed academic and activist faculty - plus people from within governments. Dede Oetomo was the Asian star. Gert Heckma of the Netherlands was the seasoned European academic/activist.
(6) The British Film Festival in Indonesia.
The government funded British Council held a film festival in Indonesia in early 2005 on the theme "Gender." Indonesian High School studies watched a set of films and wrote essays on how gender was represented in British and Indonesian films. Local winners competed in Jakarta on March 11th. The final winners headed to London in April. They introduced key Indonesian films at several London high schools.
The festival, therefore, hopes to encourage young people, especially those in the 15 to 18 age group, to discover how the concepts of masculinity and femininity, as influenced by both social norms and popular culture, are strong determinants of how they construct and understand their personal identities.
(7) Harmony and sexuality in Shanghai
Another recent example of these patterns was the workshop "Diversity, Equality and Harmony: Sexuality Policy and Law" held in Shanghai in January, 2006. Again we see western academic outreach to Asia.
The workshop was cosponsored by the China Center, Yale Law School, and the School of Social Development and Public Policy of Fudan University, Shanghai. Four of the five international faculty were from US universities. The fifth was Mr. Justice Michael Kirby of the Australian High Court.
Given the focus on law, discrimination and the recognition of relationships, the workshop may have reflected identity politics more than a sexuality approach. But the language in the title was "sexuality."
Sexuality in Asia
Sexuality has arrived in Asia. Now we can (sort of) fit together some of the developments. The women's studies programs. The human rights programs (Mahidol University co-sponsored the July queer conference). Josephine Ho's center in Taipei. A course here. A program there. Workshops, exchanges, scholarships. The new century is looking increasingly queer.
Douglas Sanders is a retired Canadian law professor, living in Bangkok. He can be contacted at sanders_gwb@yahoo.ca.