Ang Lee wins Oscar best director
Ang Lee has won best director Oscar for his gay cowboy movie Brokeback Mountain, the Academy of Motion Picture Arts and Sciences announced Sunday evening in Hollywood.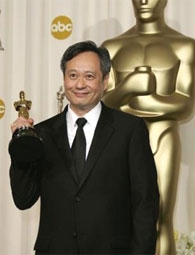 Contrary to media reports, Ang Lee (above at the Oscars) will not be directing a movie based on the life of the late British pop star and closet lesbian Dusty Springfield, says James Schamus, a longtime Lee collaborator and producer of Brokeback Mountain. Media reports speculated that the he was preparing to make the film, supposedly starring Charlize Theron and model Kate Moss as her lesbian lover. Schamus was quoted on Contactmusic.com as saying: ''I'm a Dusty Springfield fan, but it's all completely fabricated.''
Although the film also took best original score and best adapted screenplay prizes,
Crash
- a gripping story of racial prejudice - galloped away with the best picture prize, to the disappointment of many a Brokeback fan.
"I wish I knew how to quit you," Lee told the Oscar audience at the 78th annual Academy Awards ceremony, reiterating the film's most-quoted line, to thunderous applause.
Based on Annie Proulx's 30-page short story of the same name, the film roughly traverses two decades in the lives of two cowboys, Jack Twist (played by Jake Gyllenhaal, Actor in a Supporting Role nominee) and Ennis Del Mar (Heath Ledger, Actor in a Leading Role nominee), who befriend each other on the Wyoming mountain with the now-iconic name, and discover feelings they never knew existed.
Lee's work is also receiving praise from social groups. Gay-rights activists in Taiwan said that Brokeback's three Oscars are an inspiration for the gay-rights movements in Taiwan, China, Hong Kong and Singapore, where homosexuality is still largely a taboo subject.
"It has given us more hope and confidence," activist Chi Chia-wei said.
Five years ago, Lee missed out in both key categories but his martial arts epic
Crouching Tiger, Hidden Dragon
took home four statuettes, including the foreign-language Oscar.
The married father of two first touched upon the subject of homosexuality in
The Wedding Banquet
, the story about a Taiwanese man living in the US, his gay American lover and the wedding he agrees to for his traditional family. Lee has on many occasions called for acceptance of gay men and lesbians.
When asked if the themes of the movies is in any way a reflection of himself, he was quoted as saying in an interview on cable station TVBS in January: "One does not need to be a killer to shoot a film on crime, and one does not need to be a homosexual to shoot a film on homosexuals."
The critically acclaimed director - five of whose films have now been nominated for Oscars - is likely to be busy picking up more honors in Taiwan. The Government Information Office said it would present a cash reward to him. His alma mater, the National Arts School, plans to give him an honorary doctorate.
President Chen Shui-bian and Vice President Annette Lu have also sent a congratulatory message to Ang Lee, praising him as the "pride of Taiwan."
"He has not only injected vitality into the local film industry but has also made a name for himself in cinema internationally," Chen said in a statement released by the Presidential Office.
Chen expressed the hope that Lee would continue to contribute to the film industry and set new records.
"He makes a perfect interpretation of our goal of building a state based on culture and human rights. We are very proud of him," it said.
In China, many cinemagoers will never see the film that gave an Asian director an Oscar for the first time. Although China's psychiatric association ceased to deem homosexuality a form of deviancy only in 2001, censors rejected
Brokeback Mountain
, excluding it from the shortlist of 20 foreign films approved for domestic cinemas this year. Censors reject discussion of gay life in most mainstream media, yet films on gay themes are widely available on pirate DVDs.
The Oscars ceremony was broadcast in China with a delay and according to media reports, Lee's reference to gay love and gratitude for connections in Taiwan and Hong Kong were lost in translation.
Other winners include Reese Witherspoon (best actress,
Walk the Line
), Rachel Weisz (best supporting actress,
The Constant Gardener
), Philip Seymour Hoffman (best actor,
Capote
), George Clooney (best supporting actor,
Syriana
).
For a complete list, visit
www.oscars.com.

POST/READ COMMENTS
---
Sydney celebrates 28th Mardi Gras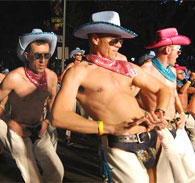 Many participants adopted cowboy outfits in support of Brokeback Mountain which won three of eight nominations including best director, best original score and best adapted screenplay.

Hundreds of thousands of people have crammed Sydney's tiny gay district to cheer on the Dykes on Bikes, gay rugby players, cowboys, and other flamboyantly-dressed marchers in the city's annual Gay and Lesbian Mardi Gras parade.

Organisers say about 300,000 people turned out to watch this year's event along the mile-long parade route around Sydney's Oxford Street on Saturday night, cheering the 6,000 participants and 120 floats.

As with the years before, the parade was led by the biker dykes cruising down the street in their lean and mean machines. Lending their support was also music guru Molly Meldrum, Greens Senator Kerry Nettle and New South Wales MP and Sydney Lord Mayor Clover Moore.

Many participants adopted cowboy outfits in support of Brokeback Mountain which won three of eight nominations including best director, best original score and best adapted screenplay.