Singapore's general election will be held on 6 May 2006. Forty-seven seats out of 84 constituency seats are being contested. Candidates from the People's Action Party (PAP) were the only nominees for 37 seats, and so they entered Parliament by default on Nomination Day itself.

There will be no poll where there were no contests. Thus, only slightly more than 50 per cent of Singaporean voters will actually get a chance to vote on May 6. Voting is compulsory in Singapore.

The 47 candidates contesting against the PAP are a mix from three different opposition parties: the Singapore Democratic Alliance (SDA), the Singapore Democratic Party (SDP) and the Workers' Party (WP).

Naturally, the PAP has a very different platform from the opposition parties, but even among the opposition parties, their positions differ.

Only one party makes a mention of sexual orientation in its manifesto. The Singapore Democratic Party says: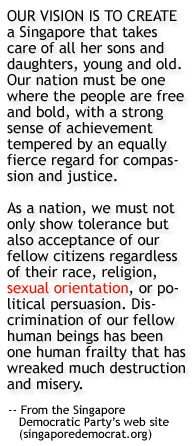 As a nation, we must not only show tolerance but also acceptance of our fellow citizens regardless of their race, religion, sexual orientation, or political persuasion. Discrimination of our fellow human beings has been one human frailty that has wreaked much destruction and misery.
(emphasis mine)
The SDA has gay persons in its organisational hierarchy, something I learnt from a conversation with one of the senior leaders of this party. They seem to be taking the view that sexual orientation should not be made an issue when it comes to any programme. However, saying it informally is one thing. Not being prepared to say so in its manifesto may speak louder.
A number of the WP's candidates are known to gay activists, and thus we can vouch that they personally are gay-friendly. However, like the SDA, the WP has chosen not to mention sexual orientation in their manifesto, and so, it's a pertinent question whether the WP will stand up for gay concerns in public.
Having said that, it should be noted that three of their candidates, when interviewed by the New Paper, declared their positions in ways no gay or lesbian person could possible object to. (
See the news story.
)
We can assume therefore that the WP, while not mentioning sexual orientation in their manifesto, is quite happy to let its candidates take a stand on matters of non-discrimination and acceptance.
A mirror situation may actually exist in the PAP. A number of openly gay and lesbian volunteers have been helping with PAP candidate Denise Phua's autism project, yet when pressed by the
New Paper
, she said, "I am not in favour of homosexuality", though she added, "but sexual orientation is an individual decision."
This seems to suggest that even if a candidate may personally be gay-friendly, the party requires her to take a homophobic position.
A glimpse into why may be seen in a reply to a question the same newspaper posed to Seah Kian Peng, the PAP candidate who enjoyed a walk-over victory in Marine Parade constituency: "I do have friends who are gay. But I will not go out of my way to lobby for them because there are consequences to cover."
What are those consequences that he is afraid of?
Gayness won't fill stomachs
The PAP has been campaigning on the strength of its proven competence in delivering a better life for all. And indeed, it is a fantastic track record, unequaled anywhere in the world. Not only that, they have a pool of extremely competent people who can take Singapore forward.
LGBTs cannot feed ourselves on our sexuality alone. We too have to have jobs, homes, disposable income, healthcare and security. How are the promises of the PAP to deliver on all these not relevant to us?
Many of us may hold our noses at the moral fetidness of exchanging our votes for fancier homes and estates. If we are ever tempted by the PAP's promises of upgrading our apartment blocks - new lifts, new electrical cabling, covered linkways, running tracks, etc - it must remain a dirty little secret to be stashed in the same old closet that we have just emerged from.
But admit it: it's a powerful inducement. In any case, how many of us have never sold our souls to the devil in return for a quickie with a to-die-for stranger, behind our lovers' backs? How many of us have never succumbed to earthly temptation?
In any case, the PAP has never said it isn't open to change. In introducing its new candidates for Parliament, the party repeatedly said that they will be free to speak their minds on various issues. Their backbenchers will provide the alternative voices that Singaporeans want heard.
That being the case, what gay constituents should be doing is to vote PAP, pocket the PAP promises, enjoy the economic growth and housing upgrading, and then press their gay-related concerns on the PAP members of Parliament, so that those concerns are heard and acted upon. The best of both worlds.
Breaking the lock
On the other hand, you may not wish to take the PAP at its word regarding alternative voices even from among its own backbenchers. You may see how the track record shows that the PAP prefers to social-engineer society to its plans rather than reflect and respond to society.
If you think that, then logic will lead you to the view that before gay-related concerns can even be heard, let alone acted upon, the "system" needs to be changed. The lock that the PAP has had on the political landscape must first be broken so that alternative voices get an opportunity to be aired, and to change societal perspectives.
You may say then that it doesn't matter at this stage, that the opposition parties (other than the SDP) have not formally stated their position on gay-related concerns, what matters now is to break the lock.
You may also say, even if half of the opposition candidates win, that still means that the PAP will hold 60-65 seats out of 84, more than enough to form a government. Isn't that also the best of both worlds?
Well, if your ward plumbs for the opposition, you might not get upgrading, but then lost in much of the rhetoric carried by our mainstream media is the fact that many Singaporeans live in housing blocks that aren't eligible for upgrading anyway. They are relatively new apartment blocks, or they're private condominiums.
In return, by voting opposition, you may have the satisfaction of thumbing your nose at the PAP and helping to open up possibilities for a more liberal and accepting future for Singapore.
Or maybe not, for the PAP has pointed out that the quality of some opposition candidates is dodgy. Should we take the risk? Is freedom ever without risk? That, ultimately, is what your vote comes down to: to be safe or to be free.
Alex Au has been a gay activist for over 10 years and is the co-founder of People Like Us. Alex is the author of the well-known Yawning Bread web site. For more on the Singapore GE, visit Yawning Bread. He can be contacted at yawning@geocities.com.