Some 80 countries in the world continue to criminalise homosexuality and condemn consensual same sex acts with imprisonment and of these; nine still have the death penalty, Ken Cheung, one of Hong Kong's more prominent gay activists, told passers-by at a busy pedestrian mall in Causeway Bay on Monday night.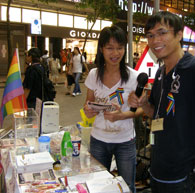 Top: Ken Cheung (right) - one of Hong Kong's more prominent gay activists - with a fellow volunteer, at the Idaho booth at Causeway Bay.
Speaking in Cantonese, the language spoken by most of the population and using a microphone, he drew attention to the 2nd International Day Against Homophobia (IDAHO) march in Hong Kong to be held this Sunday. Entitled "Stand Up Against Prejudice," the march is organised by 19 LGBT groups including from Cheung's Rainbow of Hong Kong, Women Coalition of HKSAR, HK 10% Club and Nutongxueshe.
Marked in 50 countries around the world on May 17, the event aims to provoke action, increase the visibility of the LGBT movement and for the event to be marked in the maximum number of countries, and adopted on an international level. The event is held on May 17 to mark the World Health Organisation's removal of homosexuality from its list of mental diseases in 1990.
Tending a booth in the busy shopping district which is known for its collection of some 10 lesbian and gay karaoke bars and cafes, volunteers from various LGBT groups handed out flyers and spoke to the public about LGBT issues and concerns.
While Hong Kong repealed gay sex laws in 1991, gay sex is continues to be punishable in several Asian countries including Singapore, Malaysia and India while Afghanistan, Iran, Mauritania, Nigeria, Pakistan, Saudi Arabia, Sudan, United Arab Emirates and Yemen have the death penalty for gays.
Cheung, who has almost a decade of gay activism experience in Hong Kong, said that part of the challenge, in addition to being prepared to engage with the general public, is educating gays and lesbians who have not yet come out and are not aware or involved with the various efforts of LGBT community groups. He also recounted incidents where he noticed some people who are likely gay or lesbian intentionally making a detour to avoid walking past the Idaho booth.
In addition to homophobia directed by society towards homosexuals, some gays and lesbians may find it difficult to come to terms with and hold negative views of their homosexuality, and experience some degree of self-disgust and self-hatred. This has been described as internalised homophobia which develops as a result of LGBT people having to battle against the negative attitudes and laws against homosexuality.
Speaking to Fridae, the 31-year-old activist and part time student also highlighted the importance of having the LGBT movement align itself with other movements and having the rainbow flag seen as a mark of solidarity at other non-LGBT related events including the July 1 democracy march last year and the protest of the Article 23 bill imposed on Hong Kong by Beijing in 2003 which drew hundreds of thousands protesters.
He explained that by integrating mainstream and gay concerns, both communities would benefit from the interaction and camaraderie fostered.
The first IDAHO parade held also in Causeway Bay last year attracted some 350 people, a small percentage are believed to be alliances of gay groups. This year, some 500 people are expected to participate in the hour-long march starting from East Point Road (behind Sogo Department Store) at 3.20pm on Sunday down Hennessy, Lee Garden and Percival Roads, and back through Percival in Causeway Bay.
Prominent guests include Dr Fernando Cheung Chiu-hung, a member of the Legislative Council, who will open this year's Hong Kong IDAHO as well as Silvano Zheng from Gay Chinese - Information Clearinghouse for Chinese Gays and Lesbians (ICCGL).
Prominent sexual minority-friendly organisations from other parts of Greater China who will be present at the parade include, Taiwanese sexual minority church group Tong-Kwang Light House Presbyterian Church, Taiwan's first sexual minority cleric Rev. Elias Tseng; and Taiwanese BDSM (bondage and discipline; domination and submission; and sadism and masochism) group BDSM Company.
Around the world, activists in Japan delivered letters to embassies of countries with anti-gay policies. In addition, there were two demonstrations and various other activities, not only in Tokyo, but also in Sappeno, and Sendai.
While in London, activists protested outside the Home Office in support of gay asylum seekers who have fled homophobic persecution in countries like Pakistan, Uganda, Sudan, Cameroon, Jamaica, Iran, Belarus, Algeria, Iraq, Nigeria and Egypt. In Nepal,
In Lebanon, HELEM, a non-governmental organisation for sexual minorities organised days of events that include screenings of six locally produced films dealing with homophobia, the launch of a book on the topic, open discussions on how to "come out" as a homosexual, and a symposium on gender and sexuality.
In Iran where homosexuality is punishable by death, 40 writers, filmmakers, play writers, political and human rights activists jointly announced support for LGBT rights on the Internet.
Details of the 2nd International Day Against Homophobia Hong Kong Parade:
Date: May 21, 2006
Time: 2pm/ Parade starts 3.20pm
Venue: Pedestrianised area on East Point Road (behind Sogo)