Described by the BBC as a "romantic, hilarious and sometimes poignant journey familiar to anyone who has ever fallen in love at first sight," Imagine Me and You is written and directed by Ol Parker. The witty British romantic comedy stars Piper Perabo (who played a gay teen in Lost and Delirious) as newlywed Rachel who finds her true love on her wedding day but, alas, it's not with her handsome, sweet, kindly, husband-to-be! Whether or not she believes in love at sight, Rachel has to choose between her husband and Luce (played by Lena Headey, The Brothers Grimm), the newlyweds' florist whom Rachel meets for the first time on her wedding day at the church.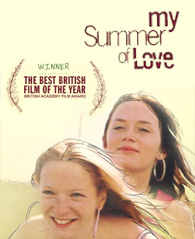 Top: Piper Perabo (Lost and Delirious) and Lena Headey star in Imagine Me and You; Emily Blunt (The Devil Wears Prada) and Natalie Press play teenaged lovers in My Summer of Love, winner of the BAFTA Best British Film award in 2005.
Based on a novel by Helen Cross,
My Summer of Love
tells the story of two 16-year-old girls' brief but blazing relationship in the English countryside. "If you leave me, I'll kill you," the pair swears to each other. It won the Alexander Korda Award for Best British Film at the British Academy of Film and Television Arts Awards 2005. Natalie Press, was named British Newcomer of the Year at the 2004 London Film Critics Awards for her role as Mona, a working-class lass living with her ex-con brother (Paddy Considine) above a dreary pub that they inherited from their parents. She meets Tamsin (Emily Blunt who is recently seen in
The Devil Wears Prada
), a sultry beauty who was suspended from boarding-school for being a "bad influence."
The Los Angeles Times
called it "a most provocative love story, about two people who will never forget each other, but not for anything like the reasons they initially imagine."
The double-bill Charity Premiere will benefit of the Association of Women for Action and Research (AWARE) and Cat Welfare Society (CWS). Fifty percent of proceeds will go to AWARE for its support, research and educational programmes and the rest to Cat Welfare Society.
AWARE is a voluntary organisation that has been promoting equal rights for women in Singapore since 1985 and works to empower women through positive social change.
Corinna Lim Honorary Secretary of Aware said, "AWARE is delighted to work with Fridae in the screening of the premiere of Imagine You and Me, a bittersweet romantic comedy which, while it entertains, raises questions about the meaning of marriage, gender, and love in its different forms. AWARE supports each individual's right to be the best that she or he can be, regardless of race, sex, religion and sexuality."
The organisation also runs a Helpline at 1800 774 5935 between 3pm to 10pm on all working days as well as other services such as a Legal Clinic, Counselling and a Befrienders service. AWARE reaches out to about three thousand women every year through all the different services.
The Cat Welfare Society is a non-profit organisation, run entirely by volunteers to improve the welfare of stray cats in Singapore. It was started in July 1999 by a group of friends in response to a publicised incident where five kittens were reported to have been burned alive in a box.
Dawn Kua, CWS' director of operations said: "We thank Fridae for hosting this charity premiere for Cat Welfare Society and AWARE. It's a fantastic effort by Fridae to integrate our community together in our bid for a gracious Singapore."
Today, the group aims to encourage people to help out with a Trap-Neuter-Return-Manage (TNRM) programme, whereby cats are sterilised and put back into the communities they come from where they are managed by residents who live there. This ensures that the cat population is managed and does not continue to grow, and is also a means by which residents help other residents in their estate by dealing with any cat related complaints they might have. Proceeds will fund sterilisation, educational material about the TNRM programme and adoption programmes.
In related news, at least 20 felines have been found brutally slaughtered and some with their throats slit in bushes and drains in the past two weeks. The CWS and the Society for the Prevention of Cruelty to Animals have set up a joint reward of S$2,000 (US$1,277) for anyone who can help arrest the culprit.
Double-bill Charity Premiere presented by Fridae
Imagine Me and You Singapore Premiere
Date: 12 September 2006 (Tuesday)
Time: 9.15 pm
Venue: Shaw Lido 3
Price: USD$20 (approx. S$30)
Book online
My Summer of Love Singapore Premiere
Date: 16 October 2006 (Monday)
Time: 9 pm
Venue: to be announced soon
Price: USD$20 (approx. S$30)
Book online
Tickets are also available at the
W@Nation Launch party
at Club 95 (95 Club St) on Saturday, Sept 9 from 8pm till late. For information and ticket reservations, call Rodin or Tiffany at 62762132 from 10am-7pm. If you are unable to attend the premieres but wish to make cash donations to AWARE and the CWS, you may do so through the
Fridae Shop
.