For one night only: queer film showcase in Singapore
While it was not quite a full-blown film festival, Singapore had its inaugural showcase of 12 short films by nine local filmmakers last Friday. Curated by award winning poet and playwright Alfian Sa'at and filmmaker Boo Junfeng, the films that were selected either featured either LGBT themes or were made by queer filmmakers.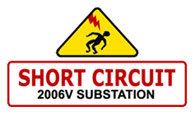 Organised by the gay group People Like US, Short Circuit was a private screening - which required attendees to register by email at least a week prior to the event - attracted a turnout of 144 people. The requirement was stipulated by the organisers in consideration of censorship rules in Singapore.
Organiser Alex Au explained that almost all films with homosexual content are rated R21 by the Media Development Authority. "We felt that since the filmmakers were themselves barely 21, they would have a lot of their own friends of their age group who'd want to see their works. So it didn't feel right to exclude them."
Au also said, "We would not as a matter of principle accept edits imposed by censors. So we'd rather do a private screening than subject ourselves to rules we do not agree with."
Held at the Substation, the evening opened with an unexpected bang where the mostly queer audience watched what is unarguably the most explicit sex scenes (ironically heterosexual) in the history of Singapore filmmaking on the big screen.
Bedroom Dancing
, a 18-minute social satire by Sun Koh, is a fictional adaptation of a true story where a man in Singapore was fined S$6,500 (US$4,000) by the state for masturbating at his bedroom window every morning after a woman - who presumably spied on him on numerous occasions - made a police report.
While most films received unrestrained applause, the audience was a little less enthusiastic in showing their appreciation of Loo Zihan's emotionally charged 7-minute film which features a young man who suffers a breakdown in the shower after having sex with a male stranger. The film also inspired questions about whether gay films have a duty to promote positive portrayals of gay life during the question and answer session. Loo's responded that what was depicted in the film could be experienced by both gay and straight individuals.
Au, a social commentator and gay rights activist, noted the audience's response in his Yawning Bread blog: "It's hits home very hard, a painful portrayal of what many of us, straight or gay, have gone through. There is desire, and the realisation of that desire in physical sex. But sometimes that turns out to be little more than mechanical, and we deal with it through denial (it's no big deal, we say). But there are times when denial doesn't work and we may feel dirty or used, ending up regretting and chastising ourselves for doing what we did."
The heavyweight offerings of the night were Boo Junfeng's nostalgic
Un Retrato de Familia
(
A Family Portrait
) and
Pink IC
by Charmaine Wong, a documentary which had five women talk about being gay in Singapore.
In
A Family Portrait
which was filmed in Spain (and Spanish) with a local cast, a young girl asks her teenaged brother a question which leads him to recall a day many years ago when he saw his parents and uncle in a threesome. Boo later revealed that the film was instrumental in his coming out to his mother two years later when he turned 21.
Wong's 12-minute documentary was spliced with sound bites from a 2003 interview with Minister for Community Development, Youth and Sports Dr Vivian Balakrishnan, who was asked by the filmmaker where gay people fit into Singapore society. He was speaking at The Remaking Singapore Dialogue held at Perth's Murdoch University where Wong was a Media Studies student.
At the August 15, 2003 dialouge, he said: "Let me put it to you this way, a gay person or a straight person is a citizen. And as a citizen, he has a certain reasonable expectation to be able to live, work, find housing, find a job and to seek fulfillment in his or her own life. The fact that he is different or she is different does not give anybody the right to throw stones or to stone that person.
"But having said that, there's a difference between tolerance and endorsement and as a government, we're not endorsing or promoting the homosexual lifestyle.
"So therefore my advice to gays would be -do your own thing but recognise and respect the fact that the vast majority of Singaporeans are conservative on this point and it would be counterproductive to you to unnecessarily ratchet up the level of debate."
At the time, the "Remaking Singapore" Committee which Dr Balakrishnan heads had just submitted its report which made recommendations on the political, social and cultural aspects of Singapore's survival as a nation. At the same time, an intense public discussion about then PM Goh Chok Tong's Time Asia interview where he disclosed that gay people are being employed within the government was taking place.
Wong told Fridae, "Amidst that discussion, another question was being asked: What happened to the lesbian voice? Why weren't they contributing to the discussion?"
"So that was how Pink IC came about. I wanted queer - not necessarily lesbian - female, Singaporeans - (not only ethnic Chinese Singaporeans - to voice out on how it is for them to be queer, to be female, to be Singaporean and on the political events that were happening around them that were affecting or had the potential of affecting them personally."
While the audience and filmmakers discussed queer filmmaking and having positive gay representation in film, the most quoted take home message of the night was undoubtedly from Ivan Heng, the founding artistic director of W!LD RICE and one of Singapore's best known figures in the arts scene. He articulated the importance of community events such as Short Circuit saying: "Tonight's gathering is significant. We came here as strangers, and having witnessed these films together, we leave as a community."
---
Gay university students in Taiwan more likely to suffer from depression: study
Gay university students in Taiwan have been found to be three times more likely to suffer from depression and think about suicide than their heterosexual peers (12.9 per cent compared to 4.8 per cent), according to a survey released by the Ministry of Education on Sunday.
Professor Ko Hui-chen, a member of the ministry's student affairs committee, and a group of graduate students developed a questionnaire and conducted the survey on over 4,900 college and university students across Taiwan, with 1,353 valid samples collected from male students and 1,303 from females.
Of the total, 2,220 (83.6 per cent) said they are "absolutely heterosexual," 264 (9.9 per cent) said they are "heterosexual most of the time," and 54 (two per cent) claimed they are "bisexual."
Those who claimed they are "homosexual most of the time" numbered only 16 (0.6 per cent) of all respondents, with 19 (0.7 per cent) saying they were "absolutely homosexual or lesbian," and 39 (1.5 per cent) uncertain about their sexual orientation.
When asked if they had "suicidal thoughts in the past week," 24 per cent of gay students said yes compared with eight per cent of heterosexual students.
The study also found that despite Taiwan's growing acceptance of homosexuality, gay university students are still reluctant to reveal their sexual orientation to their parents with 33 per cent having told their mothers and 22 per cent having told their fathers compared to 81.8 per cent who reported having told their friends.
Prof Ko noted that homosexual students are more emotionally disturbed than heterosexuals and their self-evaluations are more likely to be negative because they tend to experience greater pressures due to
their love life.
She said that the education ministry will offer more courses and extracurricular activities to promote gender equality in hopes that faculty members and students will not hang on to biases, stereotypes or discrimination against gays and lesbians. It will also devote more resources to helping students, parents and faculties better understand the pressures faced by homosexual students and the difficulties they may have in adapting.
She also urged gay and lesbian students to learn to be more independent and persevering so they will not be easily discouraged by other people's disapproval or negative attitudes.
Taipei recently held its annual gay pride parade last month.