(Click here to read news article about Short Circuit.)

We don't know where Short Circuit will lead. When People Like Us heard about some young gay and lesbian filmmakers with short films to show, it didn't take us long to see that it was important to organise a screening. And so we did - a one-night showcase of short films with queer themes or by queer filmmakers.

But this is Singapore. While we would like to do this on an annual basis, the government can turn around anytime and clamp down. The experience of the Nation Party hardly needs to be recalled.

Still, an opportunity, when presented, has to be grasped. Given its popularity and reach, cinema is perhaps the most powerful medium for the imagination in our age and that is why we feel it is important to encourage the gay voice in Singapore cinema.

It is debilitating to gay people if we are not represented on screen. Invisibility cripples us. Not only are we banished from the public imagination and thus from a society's agenda, our erasure also drains away individuals' confidence in coming out personally. Between the two, they create a vicious cycle.

Equally bad is when cinema misrepresents us. Depending on how we are caricatured, gay people are made into weirdoes, predators, pathogens or objects of raucous hilarity. Whichever way, heterosexuals remain smug and we remain the Other.

Even when there is fair representation of sexual minorities on screen, it can get quite unbalanced in terms of ethnicity and geography, and this creates another set of problems. When it's mostly American and European cinema that have GLBT characters, audiences outside the West tend to think that homosexuality is just a Western phenomenon, alien to their own cultures.

Gay Asians are therefore doubly castigated for being sexual outlaws and cultural renegades. Gay Asians themselves, lacking their own models, are led to adopt the conventions of the West, social habits and physical attributes that may jar with everything else about them and their families, not least the form and colour of their own bodies.

Some years ago, I heard a joke: "The only Indians sun-tanning on a beach are the gay ones." There's a certain insensitivity about it - and probably untrue too - but it hits home the point about how gay Asians, lacking our own models, adopt the standards and lifestyles of the West.

We end up doubly exiled, sexually and culturally.

Fortunately, Chinese cinema from Taiwan and Hong Kong has in the last 10 years or so, begun to represent gay characters as well, as have, to a lesser extent, films from Japan, Korea and mainland China. It has partly come out of the nascent gay consciousness of these countries, but in turn has propelled it further. At the same time, it has indigenised the notion of gayness in both the public mind as well as within the local gay communities.

Since Singapore is majority Chinese, we've been able to free ride on the images coming out of Chinese cinema. It is no accident then, that of the three major racial groups in Singapore, it is the Chinese who tend to be more comfortable with their gay identities, and more out than the others.
We cannot rely on foreign cinema
But not all Singaporeans are ethnic Chinese, and anyway, we have a social and political context that is distinct from China or Taiwan. Hence, it is still important for Singaporeans to tell our own stories.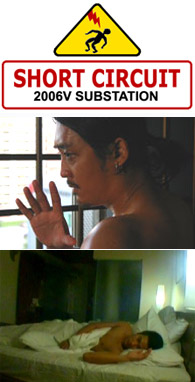 Top pic: Bedroom Dancing by Sun Koh and Untitled by Loo Zihan and Kan Lume.
Powerful as film is as a medium, it is doubly so when people see their own environments and concerns in it. For example, in Short Circuit, while all the films were laudable, arguably
Bedroom Dancing
by Sun Koh and
Untitled
by Loo Zihan and Kan Lume had a power unique to themselves.
In the former, it was possible to feel the claustrophobia of our housing blocks and the skin of the Singaporean couple who had sex every night because their home was our home and their skin ours too.
In the latter, many of us - the men at least - recognised the deserted shopfronts at night where we ourselves have cruised. It could have been us waiting there in the shadows.
Fridae's News Editor reported earlier that applause for
Untitled
was relatively tepid. I think that was because many in the audience were left shell-shocked by a film that cuts so close to home.
Even when filmmakers make documentaries about Singapore, it grabs us twice as strongly as it would a foreign audience. The women speaking about themselves in Charmaine Wong's
Pink IC
are either our own friends, or quite plausibly, friends of friends. The minister speaking there is someone we have lots of other opinions about, from which we cannot totally disengage even as we hear him speak about the government's policy towards gay people. We can't help but hear more than he says, because we know more than he says.
Our discovery of ourselves as individual Singaporeans and as a society will not be complete without cinema holding a mirror to us. That is why People Like Us seized the opportunity to organise Short Circuit without hesitation.
The most hopeful thing about the event was seeing how young, yet how accomplished the Singaporean filmmakers were. Given time, they should be producing really good work. With luck, their films will re-interpret our reality and re-imagine our future for both straight and gay Singaporeans.
This is not to say that we expect them to confine themselves to gay-themed work, nor even to Singapore-themed work. That would be absurd. Already, at Short Circuit, we see that they haven't, and it is liberating that they haven't.
They have brought their talent to bear on subjects as diverse as migrant workers, Indian marriages, alienation and assimilation, and they are likely to venture into more subjects in the years to come. But there is probably such a thing as a queer sensibility, and a queer take on any subject - and it's a good thing, throwing fresh light on and asking fresh questions of what we might otherwise consider exhausted fields of enquiry. But artists have to be honest about where they're coming from, and that's the other thing that People Like Us wants to encourage of a new generation of filmmakers: to be out of the closet, unafraid and thus of impeccable artistic integrity.
For reasons too complex to discuss here, Singapore lost its filmmaking tradition after the 1960s. So in the last few years we have had to re-create the industry. Ngee Ann Polytechnic established its School of Film and Media Studies in 1989, attracting some very enthusiastic students, while other Singaporeans have gone abroad to do Film Arts in various universities.
More recently, the Singapore Film Commission has been actively funding films and looking at the supporting infrastructure.
With luck, there will be a rejuvenated film industry in Singapore, but it's important that gays and lesbians must also get involved in it. In the next wave of Singapore cinema, there must be an LGBT voice. It would be make a huge difference if our community in Singapore stands ready to support our filmmakers through this developmental phase.
Alex Au has been a gay activist for over 10 years and is the co-founder of People Like Us. Alex is the author of the well-known Yawning Bread web site. He can be contacted at yawning@geocities.com.