DJ Kate Monroe has got a new man in the house and that's six-week old Xavier Istomin Monroe, birthed by Monroe's partner. The Sydneysider is no stranger to Asian partygoers having played at Nation.V in Phuket last year, as well as in Singapore, Kuala Lumpur and Hong Kong this year in addition to numerous parties down under and her Odyssey House (Sydney) Sundays residency.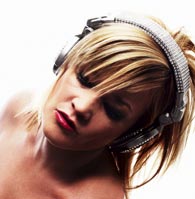 Kate will be in Phuket this weekend for the Nation party with her partner and son in tow. In the meantime, Fridae caught up with her to find out more about being a lesbian mother, being on the road frequently and same-sex marriage rights.
æ: How and when did you and your partner establish that you wanted a child (or children)?
Kate: We spoke for two years about the possibility of having children and weighed up the many considerations involved, then spent another 18 months considering further how we would choose to move forward, so it was a long process.
æ: What do you think are the additional challenges of being a lesbian mother?
Kate: Being a lesbian hasn't really changed our experience. Probably the best thing has been that we are both home to support each other instead of having to fill the 'traditional role play of father/ breadwinner, mother/ stay-at-home we can move in and out of the roles and enjoy our beautiful son.
æ: Has your family and friends been supportive?
Kate: Both of our families are very supportive and so ecstatic to have a new grandchild they are over the moon!
æ: What do lesbians who are considering having a child need to consider?
Kate: That's a huge question and I am no expert, but it has changed our life immensely and we were ready for that change, ready to take on a new role and a new all encompassing love. Self really goes out the window and you need to be ready to embrace that I think.
æ: Parenting by gay and lesbian couples is not recognised under Australian law; same sex couples may not marry and currently there is no provision for joint adoption applications from same sex couples. What are the biggest challenges you (and your partner) face in that area?
Kate: Our son, Xavier Istomin Monroe, has taken my last name and that is a special gift from my beautiful partner. I have never allowed boundaries legal or otherwise to stop me from living my life as I wish and I hope this will be no exception. Having said that I can only hope that Australia and the rest of the world begin to move forward and allow the same HUMAN RIGHTS to all people regardless of orientation be that cultural, sexual or otherwise. I am not interested in getting 'married' in the traditional sense I just want all peoples to be equal to be able to follow their highest nature and live their lives to their highest capabilities.
æ: The gay-rights movement worldwide is adamant about same-sex marriage rights and calling it exactly that (civil unions will not do). How do feel about civil unions (with the same legal rights accorded to opposite-sex couples) or must it be MARRIAGE as anything lesser would be to fall short of true equality?
Kate: Again I think the word marriage diverts us from our true need, which is equal human rights. For me that will suffice. My heart is tied to my partner now and forever.
æ: How did you go from globetrotting as a DJ to lesbian motherhood? Was this something you've always wanted or did it come to you unexpectedly?
Kate: I love children and always hoped that I might have this experience. I look forward to more globetrotting with him in tow. My son, Xavier, has brought a whole new experience of love and joy into my heart and that has always been where my music comes from so in a way it's like I've been given a huge injection of the beauty of life. How lucky for me!
æ: You travel fairly often for gigs. Is that going to all change now that you've a new addition?
Kate: No darling, more travel is my schedule. It's only a plane ride wherever I go and on the special times that I can bring my family along it will be even more special. I want his passport and experience of growing up to be international.
æ: Will your partner and son be traveling with you as you head to Phuket?
Kate: Yes, he and my beautiful girl will be coming along.
æ: What was the most memorable part of Nation for you?
Kate: Nation last year BLEW ME AWAY (emphasis Kate's own)! I loved the crowd! Every time I remember the faces and happiness in the room, I smile!
æ: W@Nation partygoers will attend not only the Nation parties but also exclusive girls-only activities including BBQ dinner, Two Queens dance party, and poolside parties. Other than at the Hot Couture party, where else do you think your fans can say hi?
Kate: I will be around!
Catch Kate at Feelin' Good, the closing party (right after Haute Couture), on Oct 23 from 4-8am.

Latest ticketing info: Day, weekend and VIP passes will be available online at www.fridae.asia/shop till noon (+8GMT) on Oct 19. Only day passes and limited weekend passes will be available at the door/ Nation Customer Service Centre at the Hilton from Oct 19.