Happy, one of Singapore's most known gay clubs, will call it a night after a grand finale on New Year's Eve. According to its weekly newsletter sent to partygoers, the building - which the club is housed - has been sold.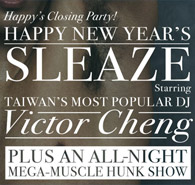 Located in the Tanjong Pagar/Chinatown district, the club was named "Singapore's hottest nightspot" by Wallpaper* Magazine in 2005 and has hosted numerous local performers as well as DJs from across Asia and around the world since it opened its doors in 2004.
Well known and loved by partygoers not just in Singapore but abroad, Happy will also be remembered by Nation partygoers for organising the Pirates Paradise poolside party featuring DJ Severino in Phuket in October this year.
This weekend, Happy will host the last Girls' Night Out party with co-hosts Party Junkie on Saturday night and on New Year's Eve, DJ Victor Cheng from Taiwan will spin as singer-actress Pam Oei counts down to the new year.
Fridae has a heart-to-heart with co-owner Alan Seah who shares his thoughts about why "post-gay" Happy could perhaps be a little ahead of its time, the gay clubbing scene in Singapore and why "running away to Taiwan, Hong Kong and KL to be who we are for a weekend isn't the answer."
æ:Happy is going out with a big bang on NYE after over two years. How do you feel?
Alan: How do I feel? Of course I feel sad. Happy has been our baby and my whole life for the last few years. It is also sad to see a wonderful team - one that has worked damn hard - breaking up. But Happy has had an amazing run and while we could continue, I also feel that it's a good time for us to go. I'm glad to say that at the end of the day, the chief emotion I have is great pride in what we've achieved. While of course we weren't perfect, I think Happy did Singapore proud. I dare say Happy was a world-class club. One that so many visitors have told us that they wished they had in their own country. And one that the Singapore community was proud to bring their friends to. It also dragged the Singapore scene into the 21st century. Mostly for the better. Before Happy there were no international DJs in gay clubs, no connection with the booming Asian and international circuit (other than occasional and very welcome Fridae events of course), no attempt to draw people out on weekday nights, no special events... in other words no innovation. It is with great satisfaction that I know that Happy leaves the scene a very different place than when we entered it. Hopefully the scene will not stagnate after our departure. I urge new blood to take up the challenge to keep the scene fresh and competitive.
As for us, we always set out to be a whole new experience: A place that was inclusive. Of course we were first and foremost a gay club. But one where gay boys could bring their straight friends, where lesbians could feel comfortable and where drag queens could strut their stuff. I think that is progressive and the way forward. And perhaps a little ahead of its time. To all the people who complained that "there are too many girls in Happy" - well sorry you didn't get it - that was the whole point. We never set out to replicate existing clubs. We always knew who we were, and what the Happy brand represented. Don't get me wrong - there is always room for an all-boys club and having one (or more) is important. But that's not what Happy was about. Our very name "Happy" was meant to be post-'gay'. A place and a state-of-mind where we could break out of our ghetto-mentality and not consider our lives just 'taboo' (no offence implied), but to be happy being who we are and to be willing and be open and share it - in all its fabulousness - with the whole world.
æ:Which has been the most memorable party?
Alan: I would say that we're really proud of all our SWEAT parties. Our SWEAT parties raised more than S$25,000 (US$16,000) for Action for AIDS. Plus it was a vehicle to regularly spread the message of safer sex on a monthly and continuous basis. Especially in this day and age, gay establishments have an obligation to be socially responsible. As does every member of our society. I hope other clubs fill the vacuum we will leave. Other than that, another series of great parties we ran were our faghag appreciation nights. One that stands out was the one where we had faghag arm wrestling. We expected each contest to be over in a minute or two but it was amazing how those gals went at it for EVER! Plus the whole concept of Faghag appreciation night kinda summed up our whole brand and to me is totally unique. I have never heard of a faghag appreciation night at a club anywhere else in the world.
æ:How would you like Happy to be remembered by partygoers?
Alan: I just hope partygoers had a great time at Happy. That they met hot boys and had hot times together. That they met the love of their life at Happy. Heard music that broke the mould and danced like they've never danced before. And most importantly, that they felt a sense of community.
æ:What's your parting message to partygoers?
Alan: I'd like to say this: Don't give up on Singapore. Yes, it seems that our country doesn't want us to have fun here, let alone exist. But running away to Taiwan, Hong Kong and KL to be who we are for a weekend isn't the answer. Yes I understand why you feel you have to go away to play. And by all means go and have a blast with your fellow South and North- East Asian brothers and sisters. But do also invest your energy here in Singapore. More than ever we need to come together and be united here where - no matter what the government or other homophobic Singaporeans say - we do belong. While partying isn't necessarily the most eloquent political statement, it is a surprisingly potent one and something that can bind us together and make us stronger as a community. So support your local gay businesses, all of them. And party on!
What's on this weekend
Girls' Night Out
Sat, Dec 30
7pm-4am
No cover charge. Boys welcome
Happy New Year's Sleaze
DJ Victor Cheng + all night muscle hunks show
Sun, Dec 31
10.30pm-4am
Admission: $25 *incl. 1 drink & party pack (while stocks last)