A Bangkok LGBT group announced its plan to launch a campaign called "Novotel - No Homosexual" through an online network of "third gender" groups after the Siam Square hotel disallowed a transvestite from entering its Concept CM2 Club.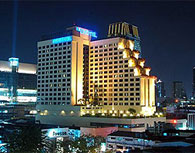 "It is fine if you ban gays and transvestites, but you have to pay the price," said Nikorn Arthit, president of Bangkok Rainbow Organisation.
According to a report in
The Nation
which described Sutthirat Simsiriwong as being transvestite, the case attracted media attention when Sutthirat, who was in drag, was turned away last Friday.
Sutthirat was quoted as saying that his ID card was checked by the club's staff and he was not allowed to enter when it was apparent that he was a "he."
"The staff said it is hotel policy to not allow katoey to enter," said Sutthirat who works as local brand manager for a French cosmetics firm.
"Katoey" is loosely used in Thailand to describe male-to-female transgenders as well as crossdressers.
In a press statement issued by the hotel managed by France's Accor hotel group, manager Michael Thomas admitted that Sutthirat was barred from entry although the refusal was not part of the club's entry policy and was not supported by its management. He added that the club regularly supported the gay community by hosting events.
"The unfortunate incident was an isolated instance of an error in judgement arising from non-conformity of the official ID on the part of the door staff involved in the altercation with Mr Sutthirat," Thomas said.
Sutthirat on Wendesday flied a complaint to Human Rights Commissioner Naiyana Sup-apung who said she would investigate the case.
Since the incident was reported, other transvestites have called Sutthirat telling him that they had received similar treatment from CM2 staff.
Nikorn believes the incident was based on the hotel's policy to ban katoey but at the time not brave enough to declare its policy publicly.
When contacted by Fridae, Nikorn revealed that an unnamed senior staff member he had spoken about the incident said he is aware of a policy to ban crossdressers although "the management has never made it known publicly."
The staff member alluded to transgender patrons causing fights at the clubs as being the reason of the ban.
"We are surprised that the official statement of Novotel by Executive General Michael Thomas denied it, but raised issues of security and misunderstanding between its staff at the bar and Sutthirat."
"Since Novotel is a global chain of hotels, there should have been a clear policy. Bangkok is no exception," said Nikorn.