For some time now, it's been an open secret that Ovidia Yu is a gay woman. She's one of Singapore's foremost playwrights on women's issues, and one of our very first professional writers, with several awards, two novels and a short story collection to her name. Still, she hadn't used her writing to say much about the gay experience, unlike her fellow Singapore writers Alfian Sa'at and Eleanor Wong.



All that changed in March this year, with the staged reading of her play
Hitting (on) Women
. A powerful psychodrama on the love between two women, the work has the strength to make you laugh and wince with pain in the space of a split-second, speaking with heartbreaking honesty on the troubled reality of many lesbian relationships today. Read in front of an audience of over 800 at the Esplanade Theatre, it easily won the first prize in Action Theatre's "Theatre Idols" competition for new plays.
(SPOILER ALERT: select the following text to view it.)
The play's especially important because it dares to take on the hot-button issue of domestic violence in gay relationships, which - while it may not be PC to say so - remains a big problem in lesbian couplehood today, made worse by the fact that insufficient laws exist to protect its victims. Amazingly, Ovidia manages to make both her abusive and abused characters so likeable and empathetic, that we can't help but be put in the same position as the heroine who finds it hard to break free from love for her own survival.
Hitting (on) Women
will be performed in full this August, directed by Samantha Scott-Blackhall and starring actresses Janice Koh and Serene Chen (all of whom are straight, but also all past winners of the Life Theatre Awards). A special matinee performance of the play on 11 August is marked as an event in the IndigNation Pride Festival calendar. Ovidia herself confesses that it's her favourite piece among all the scripts she's written - which is quite a statement, considering that she's penned local classics like
Three Fat Virgins Unassembled
and
A Woman on a Tree on a Hill
, and still refuses to anthologise her work on the grounds of not finding enough she's proud of.
In the meantime, she's been spurred on to become involved in the queer activist community, specially penning the short fiction piece "Pierced Years" for reading at the IndigNation event, "Tall Tales and Short Stories". (I had the personal honour of presenting my short story together with Ovidia, though mine was banned from performance -
see here for details
. Ovidia's story will soon be uploaded on the blog of event organisers Sayoni.com.)
In person, Ovidia's terribly funny and unpretentious - she willingly shares titbits of her life, including her daily routine of yoga at 6:45 in the morning, writing in her home office in between light housework and exercise and sleeping early at 9pm, recently broken by her new interest in the virtual world of Second Life.
In fact, the fact that she's lesbian doesn't seem that important to her - she even dislikes the word "lesbian," since it sounds too French, and prefers to identiy as "gay." This bubbly, eccentric woman is first and foremost a writer - words are her profession, and her joy is to make them journey into your soul.
Venue : The Room Upstairs @ 42 Waterloo St
10-19 August, 2007, 8pm
Prices: $30, $35, $40
Ticketing: www.sistic.com.sg
Website: www.action.org.sg
Special performance as part of IndigNation on Saturday, 11 August, 3pm
See
www.plu.sg/indignation
---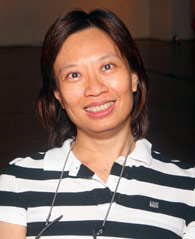 æ: Age, Sex Location?
Ovidia: 46, female, Singapore.
æ: When did you write your first play?
Ovidia: Probably in ACJC [Anglo-Chinese Junior College] - that was the first one, for a school show. It was based on
The Stepford Wives
.
æ: Wow - so you've been writing angry feminist plays all your life, then?
Ovidia: I'm a very good girl - I used to go to church pretty regularly; I would drive my grandma there when she was still alive. But then National Council of Churches (NCCS) in Singapore said it's not enough that we demonise you guys in church, we want society to criminalise you. [
Click here for more information on the NCCS's call to legally ban lesbian sex in Singapore.
] It was in the March issue of Methodist Message this year.
After that, I wrote a letter resigning from my church saying they don't want me there anymore, because even though Wesley might not have written the letter, as a member of NCCS they tacitly support the letter that NCCS wrote to the government. So unless I left Wesley, I would be supporting my own criminalisation.
æ: Have you done any other work in civil society?
Ovidia: Not really. I volunteer with the SPCA [Society for the Prevention of Cruelty to Animals]. I go there once a week. Today I was in a stock room: one shipment of badges was supposed to have 500 and there were only 499. And that's how my Mondays are spent. It's like Charles Dickens in a blacking factory. Did you know Dickens could sit back and watch himself being operated without anaesthetic?
æ: What's your coming out story?
Ovidia: I don't think I have one. Now people tend to be more surprised to hear I'm legally married to a man!
In ACJC, I think I was sexless. We were all told we should have relationships with boys, that we should focus on our studies, no BGR [boy-girl-relationships]. And at the same time the boys were getting similar talks about how they shouldn't have relationships with girls. And a lot of us turned out queer, so I think ACJC had a very good effect.
There was a lot less angst around then. Back then you just studied and got on with things. When I got involved with somebody who wasn't a guy, I still didn't put a label on it, maybe because I didn't know anyone else who was gay - I didn't see anyone but her friends, who were straight. And - okay, this sounds very retarded, but I sort of assumed everybody felt like that but just married people of the opposite gender out of duty and biological necessity. And apparently that's not true... I realised that rather late.
Of course, "coming out" public with you is also thanks to people like Rear-Admiral Lui Tuck Yew, former bible study cell group mate and - I once believed - friend, categorizing me (a homosexual) as a criminal along with "paedophiles and psychopaths".
æ: Tell us something about yourself that most people don't know.
Ovidia: Do you know I have worms? A worm farm. I recycle my vegetable stuff. It doesn't smell like a dungheap, more like a forest floor: trees and undergrowth. Occasionally it gets cockroaches, but these are clean cockroaches, because they're not infected with garbage. I pick them out and I put them in the turtle tank for the turtles to eat.
æ: What are you working on next?
Ovidia: Probably the Christmas show for FCC [Free Community Church, a gay-inclusive church in Singapore] that Alvin Tan is directing. But it's interesting because Alvin's the first director I worked for, 500 years ago [1987, actually], for the first ticketed show we ever did
Dead on Cue
. People paid us to come instead of us paying people to turn up.
æ: One last thing - what advice would you give to young queer writers today?
Ovidia: Just keep writing. It's not necessary to write about gay issues to be a gay writer. It's the facts below the surface that are important - what matters is what you want to say to the audience and how you do it. You see beginning writers labouring on the first act, deciding what they should name their characters, but that matters not at all - open at the scene you want to write; plunge in where it really matters and strikes you most. And then read it out loud to yourself, because things sound different out loud than from on paper.