This year marks the fifth time a gay pride parade is held in Taiwan, and the event stood up to its promise to be the largest gay event of the year with a record number of participants. The parade has grown in strength and size over the years, garnering an increasing number of supporters and participation from civil activism groups and individuals from outside the LGBT community.

Highlights of this year's parade include the formation of a 'Rainbow Streetscape' on Taipei's busiest thoroughfare Zhongxiao East Road Section 4 where the commercial and shopping hub of the city is located, and the appearance of pop superstar A-Mei (Chang Huei Mei) who was appointed Rainbow Star for a year.

At about 3 pm, more than 10,000 people assigned to six colour-coded blocks gathered on Section 4 of Zhongxiao East Road holding up coloured posters and forming an impressive linear rainbow streetscape visible from the air.

You can view more photos from the parade on fotos@fridae

---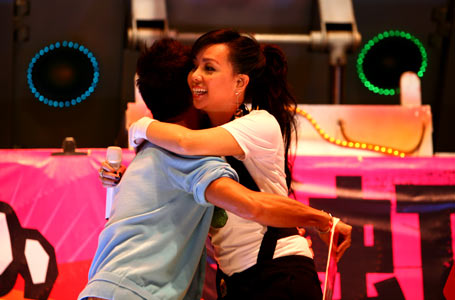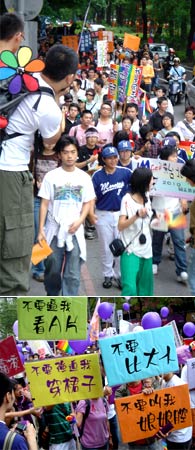 A-Mei, a popular top-selling song artiste in Mandarin pop, will be serving a term as a spokesperson and ambassador for the LGBT community. She inked an agreement to accept the appointment before a crowd of over 15,000 people, including parade participants and passers-by near the end of the parade. The audience gathered on the plaza before the Taipei City Hall were ecstatic, many bouncing and pounding the ground in joy, as A-Mei performed six of her songs that have been favourites with gay fans. (picture above: A-Mei warmly embracing HIV+ volunteer on stage in front of 15,000-strong crowd.)
She has also donated a piece of her favourite jewellery to the Taiwan Pride Parade for fund-raising. The piece of star-themed bracelet will be up for auction on the parade official website. (see link at the end of this article)
A-Mei has always been vocal about her support for gays and lesbians. One of her best-known music videos (
Love is the Only Thing
) features a same-sex wedding scene of a male couple, who received blessings from parents and friends. Many of her love songs have been voted top hits by gay listeners in previous years. (see video link at the end of article)
Click to watch video clip of A-Mei speaking on Taiwan Pride Parade and her role as Rainbow Star:
---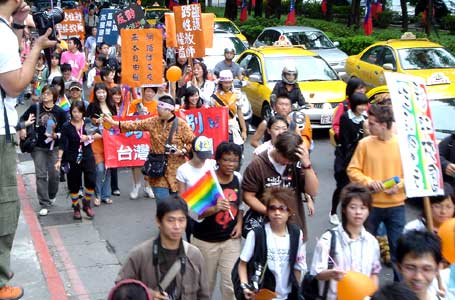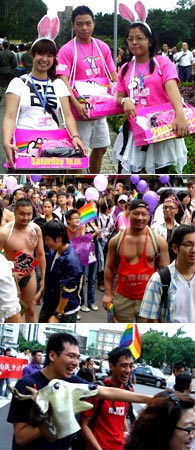 The carnival theme continues to set the tone for this year's parade, 'Rainbow Power', with an emphasis on reducing public stigma on LGBT people and improving the visibility of the gay electorate, thereby reminding the government and the society of the LGBT community's power and influence on the democratic process.
The parade started from the Sun Yat Sen Memorial Hall at 1 pm on Saturday led by contingents formed by over 80 LGBT and gay-friendly organisations and bodies from around Taiwan as well as overseas groups from Hong Kong and elsewhere. Thousand of individuals, including families with children and senior citizens were seen joining the parade. This year's parade also saw a larger number of teenage students from middle and high schools, not all of whom are gay or lesbian.
More than 140 volunteers provided logistic support for the parade organising committee, backed by an alliance formed by various gay interest organizations in Taiwan.
Fridae is proud to be the Official International Media of this event.
---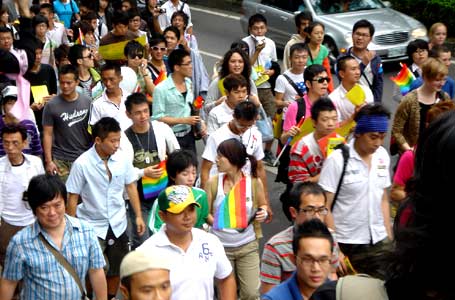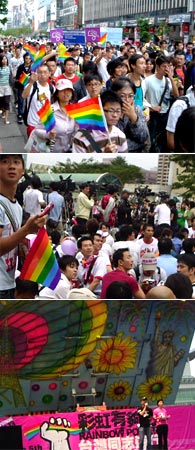 This year's parade saw for the first time contingents formed by the two main political parties in Taiwan, a sign that both parties are serious about winning support from LGBT voters in the upcoming race for the Legislative House in December and presidential election to be held in March next year.
The election support group for Kuomingtang (KMT) presidential hopeful Ma Ying-Jeou and the youth section of the ruling Democratic Progressive Party (DPP) candidate Frank Hsieh were conspicuously present in the blue and green sections (colours representing their respective political affiliations) of the rainbow-coloured parade formation.
A number of politicians made their appearance, including DPP legislators Hsiao Bee-Khim (who tabled the gay marriage bill last year in the Legislative House) and Cheng Yun-Peng, DPP cabinet member in charge of youth development Cheng Li-Chin, KMT Taipei City Councillors Lin Yi-Hua and Tai Hsi-Chin, former director of Taipei City Government Department of Civil Affairs Lin Cheng-Hsiu (who initiated the LGBT Civil Rights Movement during his term), KMT spokesman and leading campaigner for presidential election Su Jun-Pin.