According to media reports, the 37 men were arrested at a fitness centre-cum-sauna whilst a "sex party" was in progress.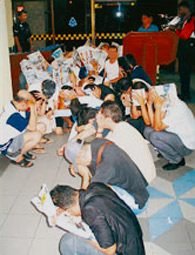 Photos of the arrest were published in various mainstream newspapers and news web sites.
Apart from a Briton and a Chinese national, all of the other men are ethnic Chinese Malaysians. The men are believed to be between 20 and 45.
Local police chief Azam Abdul Hamid told the media on Tuesday that his team found numerous used condoms, seven tubes of lubrication jelly, 20 gay magazines, four pornographic VCDs and six boxes of condoms on the premises.
He said the raid was part of the force's ongoing operation codenamed Ops Bersih (meaning Operation Clean) aimed at keeping all types of vice activities in check.
Following the raid at about 7.30pm, the men were taken to the Patani Road police station and had their statements taken before they were released.
Azam was quoted by the The Associated Press as saying, "Based on our information, the center was regularly used for these gay activities."
"This is against our culture, our way of life."
Under Section 377 of the Malaysian Penal Code which prohibits heterosexual and homosexual sodomy, the men may face jail terms up to 20 years in prison and whipping if convicted. Section 337A more narrowly prohibits acts of "gross indecency with another male person" with punishment including up to two years in prison.
On April 3, police raided two similar establishments located in a shopping complex and picked up more than 30 men.
The third-largest economy amongst the states of Malaysia, after Selangor and Johor, Penang is highly industrialised with manufacturing plants such as Dell, Intel and Motorola.