When I tell my gaggle of gay friends that I write reviews of sex related paraphernalia for Fridae, they would shamelessly ask me for free samples, volunteer themselves as guinea pigs or pass me their malfunctioning vibrators for repairs.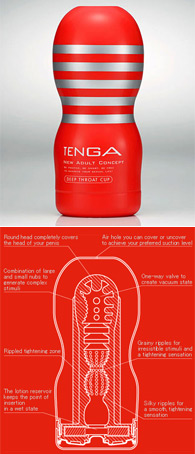 Above: Cross section of the Tenga Deep Throat cup which explains how a 'deep' sucking sensation is created using special valves, grainy rippls and other stimuli.
And when I tell my family that I'm unable to make it for the get-together because I had to test out a new range of sex toys, they often look at me as if I just announced that I was sleeping with the sacrificial priest from a satanic cult.
To make matters worse, as my partner and I are living together, I often had to intercept mail containing penis-stretching equipment, arousal cream or a scrotal augmentation starter kit just so he won't get a heart attack when he opens the mailbox.
I therefore had my reservations when Fridae's Editor approached me to test out a set of adult toys from Japan and accepted the assignment only after she assured me that it didn't involve inserting a chain of balls up my anus or attaching electrodes to my testicles.
Touted as the "future of masturbation", Tenga Onacups are wonderful to behold because unlike most adult toys they don't feature a porn model with watermelons for breasts licking a banana suggestively on their packaging.
In fact, Tenga Onacups resemble stylish male grooming products so much so that you no longer have to worry about being humiliated by overzealous immigration officers at the airport if you decide to bring them along for your holiday (unlike say a two-headed electric dildo).
Unfortunately, once the plastic wrapping came off, I must confess to experiencing a few head-scratching moments as I tried to figure out what-to-insert-where as the products do not resemble any sex toys I have ever come across and worse, there was no instruction manual provided.
Despite that minor glitch, all five onacups in the sample set delivered on their promise and each comes with a self-explanatory name: Deep Throat, Rolling Head, Soft Tube, Double Hole and Air Cushion.
The best thing about the onacups is that the user can "spew their seed" directly into the onacup and thus be spared the worry of having to explain away unclassifiable stains on the bedsheets or drenching anything within a one-metre radius at the moment of climax.
The Air Cushion Onacup offers the user with a "clinging sensation" by regulating the air pressure within the chambers of the cup while the Soft Tube Onacup allows the user to control and vary the "tightening sensation" based on the tightness of the grip.
The Double Hole Onacup is a two-in-one cup that offers two different sensations: If you prefer your manhole tight (like mine), go for the "Bitter Side" and if you prefer your manhole with the elasticity of a pair of loose granny panties, then go for the "Sweet Side".
Personally, I had the most fun with the Deep Throat Onacup which comes with a vacuum to create a "sucking sensation" and features an unintentionally hilarious "slurping sound" to recreate that deep throat experience.
The Rolling Head Onacup is another winner which incorporates a flexible body that allows the user to try out different rolling motions at the top to increase the range of stimuli to the penis head while executing piston-like up-and-down movements at the base of the cup.
My only grouse with the onacups is that they are good only for a one-time sexperience unless you make a quick withdrawal prior to ejaculation or choose to wear a condom (now where's the fun in that?).
Having said that, if the user is fine with the rather wasteful discard-after-use premise and can overcome the initial awkwardness of jerking off with what resembles a can of carbonated drink, Tenga Onacups do offer an interesting and intense masturbatory sexperience.
Overall, Tenga Onacups are truly a chronic wanker's wet dream come true and the perfect Valentine's Day gifts for single gay men or even gay couples who are keen on incorporating sex toys into their lives to add an element of fun in the bedroom.
Now that I have dutifully completed my review, it's time to give my sore sausage a well-deserved rest (you try masturbating five times within two days) and get back to my "Make Your Own Dildo" molding kit.
Prices range from US$14 to US$17.50 per cup or US$60 for a set of 5 comprising Deep Throat, Soft Tube, Rolling Head, Double Hole and Air Cushion cups in the Fridae Shop. Please note that the WorldPay payment site for credit card payment on Fridae Shop will be unavailable on 9 Feburary 2008 from 0800 to 1800 (GMT+8 hours) due to a WorldPay System Upgrade.