The highly controversial and high profile documentary A Jihad for Love - the world's first feature-length film about Islam and homosexuality - is expected to have its Asian premiere in Singapore since it was first screened at Toronto's International Film Festival in September last year.

Filmed over five years and in nine languages, India-born and raised director Parvez Sharma travelled the world from India to Pakistan, Iran, Turkey, Egypt, South Africa and France to interview devout Muslims who are lesbian, gay or transgender to speak about their faith and their sexuality. One of his subjects is an Egyptian gay man 'outed' by his arrest during the 2001 Queen Boat raid.

About 14 percent of Singapore's 4.4 million population is Muslim.

According to traditional interpretations of the Quran, homosexuality is strictly forbidden and officially carries the death penalty in some Muslim or Muslim dominant countries including Iran, Saudi-Arabia, United Arab Emirates, Mauritania, Sudan and Nigeria.

Originally titled In the Name of Allah, the title was changed to "reclaim the Islamic concept of a greater Jihad."

The film's web site explains: "In Western media, the concept of 'jihad' is often narrowly equated with holy war. But Jihad also has a deeper meaning, its literal Arabic being 'struggle' or 'to strive in the path of God.'"

"The people in this film have a lot to teach us about love. Their pursuit of love has brought them into conflicts with their countries, families, and even themselves."

The 34-year-old first-time director, who is Muslim and describes himself as a "defender of the faith," feels that the non-Muslim's view of Islam has been dominated by the perspectives of the "largely ignorant Western media" and violent extremists.

He told Fridae the film is an "opportunity to have Islam's story be told by its most unlikely storytellers and that was gay and lesbian Muslims."

A Jihad for Love - censors willing - will be among one of 200 films from 40 countries to be screened at the 21st Singapore International Film Festival (SIFF) to be held from Mar 28 to Apr 3.

Should censors require any cuts, the film will be withdrawn from the festival due to the festival's all-or-nothing policy. Last year, Solos - a locally produced film which featured explicit gay sex scenes - was pulled after organisers were told by the censors that cuts were required. It was showed at the Hong Kong Gay and Lesbian Film Festival (HKGLFF) last November.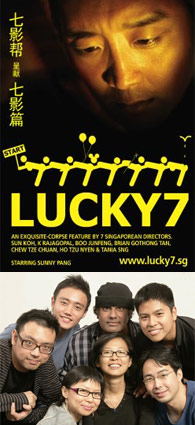 Top of page: Parvez Sharma, director of the highly controversial and high profile documentary A Jihad for Love; above: Lucky 7 directors from top left-right - Boo Junfeng, K Rajagopal, Brian Gothong Tan, bottom left-right - Ho Tzu Nyen, Tania Sng, Sun Koh, Chew Tze Chuan (photo by Rory Daniel from www.lucky7.sg)
Two locally made films stand out for its gays themes:
Lucky7
has been rated R21 for 'sexual content and disturbing images' while
Women Who Love Women: Conversations In Singapore
is pending a rating.
Women Who Love Women
, a talking-heads documentary that features three lesbians talking about their lives in the city-state, has been shown at private screenings in Singapore and Kuala Lumpur, and at the HKGLF last year.
It's homecoming for
Lucky 7
which premiered at the International Film Festival Rotterdam earlier this year. The 82-minute film is a multiple-genre, multiple-language collaboration by seven Singapore directors Sun Koh, K Rajagopal, Boo Jun Feng, Ho Tzu Nyen, Tania Sng, Brian Gothong Tan and Chew Tze Chuan who each made 10- to 12-minute segments. Each director was only allowed to know the last minute of the preceding segment.
The festival will open with
The Princess Of Nebraska
by Asian American director Wayne Wang of
The Joy Luck Club
fame. The protaganist in the story is Sasha, a newly pregnant college student who finds herself in a romantic relationship with a "karaoke hostess" (played by Singaporean-born, New York-based Pamelyn Chee) she met at a San Francisco mall.
Other films to watch out for include Academy Award-nominated biopic
I'm Not There
which is inspired by the life of iconic singer-songwriter Bob Dylan and
Annie Leibovitz: Life Through A Lens
, an acclaimed documentary about the life and times of renowned photographer Annie Leibovitz directed by her sister Barbara. Leibovitz is known to have had a decade-plus relationship with the late celebrated essayist Susan Sontag.
In
I'm Not There
, openly gay director Todd Haynes directs Cate Blanchett, Richard Gere, Christian Bale, Marcus Carl Franklin, Ben Whishaw and the late Heath Ledger in his last role who all play Bob Dylan.
Fridae is proud to be supporter of the Singapore International Film Festival.
For schedules and updates, visit www.filmfest.org.sg. Pre-sale tickets begin Mar 1 for Citibank cardholders; and open to the public from Mar 11 on Sistic.