Homosexual or bisexual transmission has been cited as the major route of new HIV infection cases from January to March this year, a diseases prevention official told a press conference on Tuesday.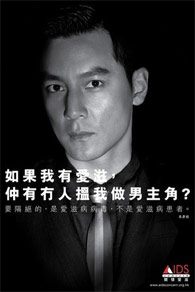 Four Hong Kong celebrities including actor Daniel Wu (above) and politician Alan Leong appeared in a HIV/AIDS anti-discrimination campaign in November last year. They personalities were individually featured in posters that appeared in the media and on buses and trains.
Dr Wong Ka-hing, Consultant (Special Preventive Program) of Center for Health Protection reported that of the 89 new cases, among whom 70 were men, have raised the cumulative reported HIV infections to 3,701 in Hong Kong since 1984.
Of the 89, 27 acquired the infection via heterosexual contact, 25 via homosexual, 3 via bisexual contact and 10 via intravenous drug use. The routes of transmission of the remaining 24 cases were undetermined due to insufficient data.
Dr Wong further highlighted that the number of new HIV cases infected through homosexual or bisexual transmission was on the up trend in the territory and most of them were infected locally.
Meanwhile, 17 new AIDS cases were reported in the first quarter, raising the confirmed AIDS cases to 951 since 1985.
Dr Wong called on the public who had a history of unprotected sex to go for an HIV test while stressing the importance of using condoms and practicing safe sex in reducing the risk of HIV infection.
Anyone wishing to have a free, anonymous and confidential HIV test can call (852) 2117 1069 (Monday to Friday 9 AM to 6 PM, except public holidays). It is a designated hotline for men who have sex with men. The service provides a one to one, face-to-face interview with pre-test risk behavioural assessment, counselling and blood collection for laboratory test. Referral resources will be provided when required. Telephone conversation is treated in strict confidence.
The AIDS Hotline (852) 2780 2211 offers pre-recorded messages on HIV/AIDS in Cantonese, Putonghua and English; (852) 2359 9112 offers pre-recorded messages on HIV/AIDS in Tagalog, Vietnamese and Thai; (852) 2112 9980 offering pre-recorded messages on HIV/AIDS in Hindi, Indonesian, Nepali and Urdu.