"A kiss-in on Valentine's Day would be fun!" quipped gay Singaporean playwright Ng Yi-Sheng when asked by Fridae if he has heard about outdoor demonstrations being permitted at one of the city's parks from Sept 1.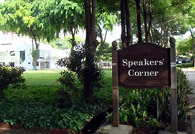 Known for its draconian rules against public protests, Singapore will ease its ban to allow citizens to stage outdoor protests by doing away with the need for police permission for demonstrations held at a designated spot known as the Speakers' corner. Singapore PM Lee Hsien Loong first announced the changes during the National Day Rally on August 17.
At a press conference on Monday, the Ministry of Home Affairs (MHA) and the National Parks Board (NParks) - when asked by reporters - said that outdoor gay pride events will be allowed at the Speakers' Corner in Hong Lim Park, reported
Today
newspaper. The corner was specifically created in 2000 for political speeches and speakers have to register in advance with the Police. From Sept, the corner will come under the purview of NParks.
Under Singapore law, any public protest of five or more people without a permit is deemed illegal.
With the changes, demonstrators now need only to register online at the NParks website prior to the event. Permanent residents (PRs) will be allowed to participate but they have to apply for a permit if they wish to give a speech or organise a protest themselves. Foreigners however must obtain a permit from the police in advance if they wish to organise or participate in any events. Demonstrators wanting to cover issues such as race and religion are still required to obtain a police permit.
Although organisers will need to furnish their personal details, the date and nature of the event and the topic, NParks's chief operating officer, Dr Leong Chee Chiew says that they will not "do screening and make sure you speak on what you said you will speak on."
"But if you give information, you must know you're accountable for it. Our primary motivation is to keep Speakers' Corner for use in as well-maintained conditions as possible... If there's a need to make good on anything, we can follow up," said Dr Leong.
In Aug 2004, PM Lee announced that permits were no longer required for indoor talks if the speaker is a Singapore citizen and as long as the topic does not deal with race or religion.
Although some members of the gay community such as Ng see the move as providing new opportunities for people to air their concerns, veteran gay activist Alex Au says that he will not organise any protests at the designated venue as the changes are "nowhere near what (he) considers satisfactory, or in any substantial way respectful of our civil rights."
"The freedom to demonstrate is meaningless unless it is applicable to all of Singapore." Au wrote in his blog, Yawningbread.
"I would not dignify this tokenism by organising anything there. It will have to be at a proper place like here at Raffles Place or down a major street, or nothing," Au was quoted as saying on Channel NewsAsia.