Keynote speakers of the conference include Prasada Rao, Director of UNAIDS Support Team for Asia and the Pacific, and Andrew Grulich of Australia's National Centre in HIV Prevention and Clinical Research who will the Australian Experience in HIV prevention programmes.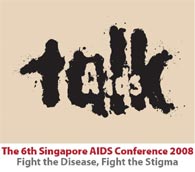 The sixth biannual AIDs conference is organised by Tan Tock Seng Hospital, Health Promotion Board and Action for AIDS, a non government organisation that recently celebrated its 20th anniversary.
The conference will be held concurrently with the National Healthcare Group's annual scientific meeting.
Aside from healthcare professionals, the event is targeted at business leaders, community groups and concerned community members, faith-based leaders, infected and affected persons, media representatives, policymakers and youth.
In a landmark testing project conducted by AfA at venues and establishments frequented by MSM between December 2007 and February 2008 using the OraQuick test, 30 (3.1%) of 960 men who have sex with men (MSM) were found to be HIV-infected.
Although HIV prevalence among men who have sex with men (MSM) in Singapore is one of the lowest in the region, MSMs are at the highest risk of HIV infection, compared to heterosexual males and females. According to a press release issued by AfA in July, about 30 percent of new and cumulative HIV infections among Singaporeans and Permanent Residents have been reported among MSM.
A MSM and HIV Symposium will be held from 3.30pm to 5pm featuring the following speakers:
- Andrew Grulich, National Centre in HIV Prevention and Clinical Research, Australia
Advancing the Research Agenda in HIV Prevention
- Daniel Tung
Strategies for HIV/AIDS Prevention among MSM in Singapore
- Dr Stuart Koe, CEO, Fridae
Sex, Internet and HIV
- Arthur Lim, Action for AIDS
MSM+ and the Positive Prevention Programme
6th Singapore AIDS Conference
Nov 8, 2008
8.30am to 5.30pm
Suntec Convention Centre
Registration fee: $150 (includes lunch and tea)
For the latest information about the conference programme and registration, visit
http://www.afa.org.sg
.